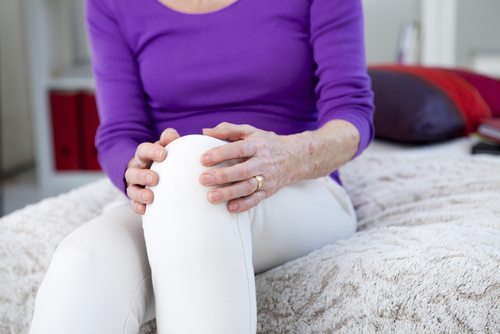 Knee pain can strike anyone at anytime. Both young and old people can experience varying degrees of knee pain from many different causes, including sports injuries and normal wear and tear of the cartilage. For the most part, people are more active these days and are more susceptible to knee pain. The good news is, there are treatments and therapies that can help us all avoid knee injuries and manage knee pain more effectively. There are some important lessons that others have learned through experiencing knee pain and learning how to best cope with it. Here, we share 4 ideas for dealing with knee pain.
1. Reduce Pain with Exercise
It may seem counterintuitive to treat pain by exercising more. The truth is, by exercising your knee, you are strengthening muscles, which can help your knees build the strength needed to provide support, which also relieves stress in the knee joint. This does not have to be a long, heavy workout. Even small and simple stretches can help with managing knee pain. Focusing on other parts of the body, such as the hips, can have a direct impact on relieving knee pain as well.
2. Maintain a Healthy Weight
Too much constant pressure on the joints in your knee can definitely lead to knee pain. It is important to maintain a healthy weight to avoid unnecessary pain. This means that, if you are already experiencing knee pain now and you are overweight, you may want to consider weight loss strategies to help manage your knee pain. Many are surprised at just how much relief of pain they experience by shedding some weight.
3. Wearing the Right Shoes
If you find that you are on your feet quite a bit because of work or your active lifestyle, it is imperative that you wear the right shoes to avoid knee injury and long-term knee pain. Additionally, if you are already experiencing chronic knee pain, you should talk to your doctor or knee specialist right away about choosing better shoes. In some cases, you may need specially designed footwear to truly make a difference.
4. Physical Therapy
When the knee pain is just too much, consider the benefits of working with a knee pain therapist. An experienced physical therapist will be able to work with you in developing a strategy that helps to alleviate pain and strengthen your knee muscles. The right therapy may include specific exercise routines as well as alternative therapies that address the root of the problem. We hope you know that you can always call Arrowhead Health Centers to learn more about options to deal with knee pain. Our team of specialists will help put together a plan that works specifically for you. Call us at 623-334-4000, option 9 to set up your free knee pain consultation today.