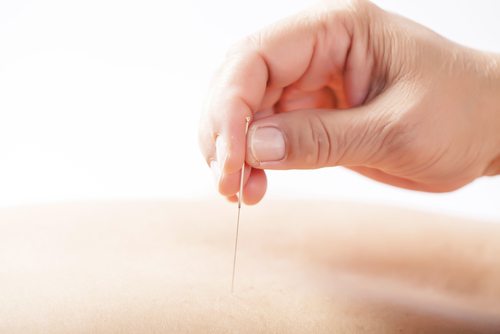 Acupuncture is a treatment for pain that has been around for centuries. Based on sixteenth century Chinese medical beliefs that all pain and illness is based on an imbalance of energy in the body, acupuncture is still widely used in both eastern and western cultures to treat many different ailments.
Finding the Acupuncture Balance
Those who administer acupuncture use stainless steel needles to stimulate certain parts of the body that are known for carrying energy. By triggering these channels in the body, it helps to overcome and resist illness or other conditions that may be present, such as joint pain. It is also thought that acupuncture helps to release endorphins, which are pain-blocking chemicals in the body. There is research that shows that acupuncture can be highly effective in relieving certain types of knee pain, including arthritis in the knee joint. Studies indicate that acupuncture can decrease the pain and stiffness levels felt by those with osteoarthritis, while increasing strength and flexibility in the knee. Not only has acupuncture been shown to provide great relief to those with chronic knee pain, but it can also be an alternative to knee replacement surgery.
Alternative to Meds
Many people find acupuncture a welcome substitute to traditional pain medications that are often prescribed by doctors when their patients are experiencing joint pain. Some feel that acupuncture gives them longer relief from their pain than pain killers do. They are also happy to avoid any side effects that may come with prescription pain pills.
Acupuncture and Physical Therapy
When a person is suffering from joint pain that stems from arthritis, it is very difficult to find the motivation to want to use those joints. However, movement and exercise is what can help the most. By exercising the muscles and joints where the pain occurs, you can add strength and reduce inflammation. Acupuncture is often used with physical therapy to promote movement and exercise. Therapists will first use acupuncture to ease pain and stiffness. Once the stiffness is bearable, a physical therapist can then work with the patient on exercises that promote the movement of joints, further relieving pain. Doctors and therapists have found that acupuncture can help with many different pains that their patients experience such as low back pain, neck pain as well as knee pain. They find that some patients feel more confident in acupuncture treatment than they do with other methods including pain meds. Find out more about how acupuncture can be used to relieve your pain by calling Arrowhead Health Centers today at 623-334-4000. When we work with our patients, we put together a specific and customized game plan that incorporates many different treatments and therapies to help you better manage your pain and allow you to live your life to the fullest.