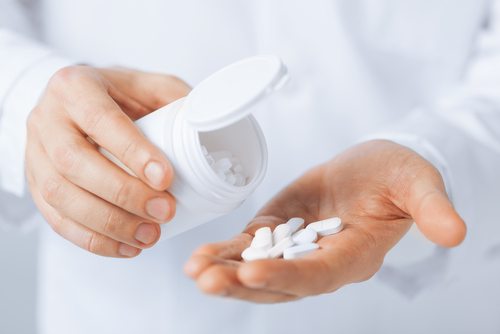 For many people, their first reaction to pain is to turn to traditional painkiller medication such as ibuprofen or aspirin for relief. The anti-inflammatory properties of these painkillers make them a popular solution for pain and they are consequently used to treat many different ailments. So it makes sense that those who begin to experience pain and discomfort from peripheral neuropathy would naturally reach for the same painkillers to help manage their symptoms.
Why Anti-Inflammatories With Peripheral Neuropathy Won't Work
Related
:
What Medication You Should Avoid with Peripheral Neuropathy
While it is true that the anti-inflammatories found in painkillers such as ibuprofen and aspirin can and will provide some degree of relief from the discomfort of peripheral neuropathy, it should not be considered a long-term solution to the problem. In many ways, continuing to take anti-inflammatories can lead to more serious health issues. The problem with trying to use anti-inflammatories to treat peripheral neuropathy is that it doesn't truly address the root of the problem. Anti-inflammatories may mask the burning, tingling or numbness of PN, but they will not heal it. Continued use of such medications can lead to upset stomach and even bleeding ulcers. Here are some of the most dangerous side effects of taking anti-inflammatories for an extended period of time: ·      Stroke caused by a burst blood vessel. ·      Gastrointestinal bleeding. ·      Allergic reaction. ·      Ringing in ears or hearing loss. Peripheral neuropathy is caused by damage to the peripheral nerves. Attempting to treat it with anti-inflammatories will not have a big enough impact to provide any long-term fix. There are other treatments and therapies available that can have a greater impact on the conditions and symptoms brought on by peripheral neuropathy. The program we have set up at Arrowhead Health Centers focuses on several treatments, all based on the patient's specific symptoms and needs. We have our patients work with a team of specialists that includes a physical therapist, family physician, an anesthesiologist and also a pain management specialist. Our therapies also incorporate many other treatments such as electronic stimulations, water therapy, balance training and stationary bike exercises. If you are using anti-inflammatory medication to address symptoms that could be peripheral neuropathy, we highly recommend that you schedule a consultation with our Care Management team here at Arrowhead Health Centers. Come learn how our Recovery Treatment Plan can work for you. We can be reached at 623-334-4000, option 9, to set up your appointment today.