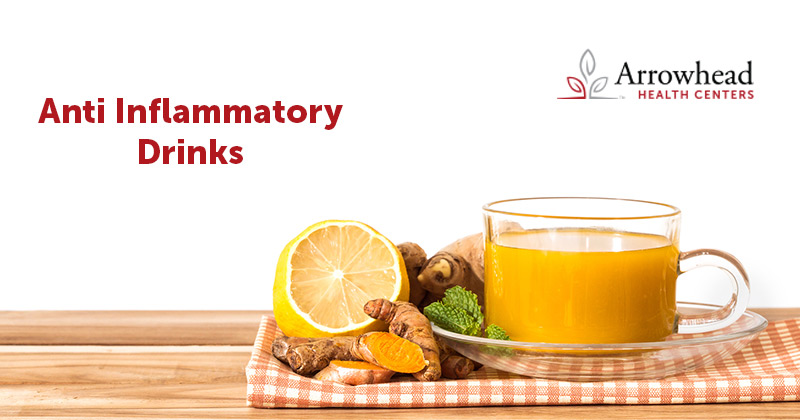 For those constantly looking for pain relief for their inflammation, these anti-inflammatory drinks may be the solution you've been searching for. Anti-inflammatory drinks are great for managing stomach and muscle pain because they are easy to attain and prepare at any time of the day. Not to mention that these liquids digest much faster than any anti-inflammatory foods would and can, therefore, provide quicker results. While the
common causes of inflammation
vary on each person's immune system, the ingredients of these drinks are highly recommended to alleviate this type of pain. Try out our these 5 drink recommendations that work against inflammation:
1. Fruit Juices That Help Digestion
Everyone knows that it's good for you to
eat the right kind of fruits
, but you may not know just how impactful they can be in your digestive system. Three fruit juices that are potent in anti-inflammatory enzymes are tart cherry, pineapple, and lemon. Tart cherry juice is rich in anthocyanins that aid in calming inflamed tissues, which is also great for a post-workout drink because it improves your recovery time and reduces muscle soreness. On the other hand, pineapple juice is full of bromelain which is an anti-inflammatory enzyme generally used after surgery for pain relief, bruising, and swelling. Lastly, while lemons may not be tasty on their own, they are incredibly helpful in reducing acidity and inflammation in your stomach, joints, and muscles. Drinking a mixture of lemon juice and water not only can
improve your digestion
but also enhance the function of your liver.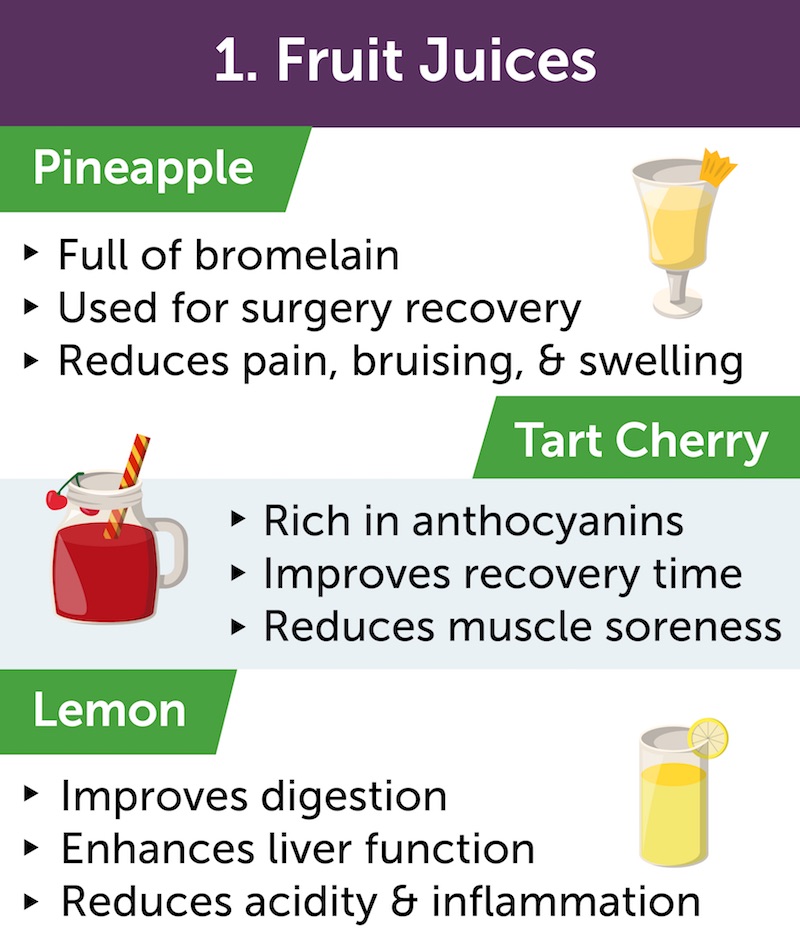 2. Apple Cider Vinegar Drink
This anti-inflammatory drink comes from
PopSugar
and does wonders for your body and immune system at the same time. This recipe is actually intended for those feeling under the weather but can be made any time that your body is aching too. This spiced and sweet drink is made of apple cider vinegar, honey, cayenne pepper (or ginger), lemon, and water. The lemon and apple cider vinegar help speed up your digestive track while the cayenne and ginger works its anti-inflammatory magic. The honey helps soothe your throat from the spice and adds additional sweetness to the drink. Other herbs that can be swapped out or added instead of cayenne are rosemary, sage, or basil. This is how the recipe goes: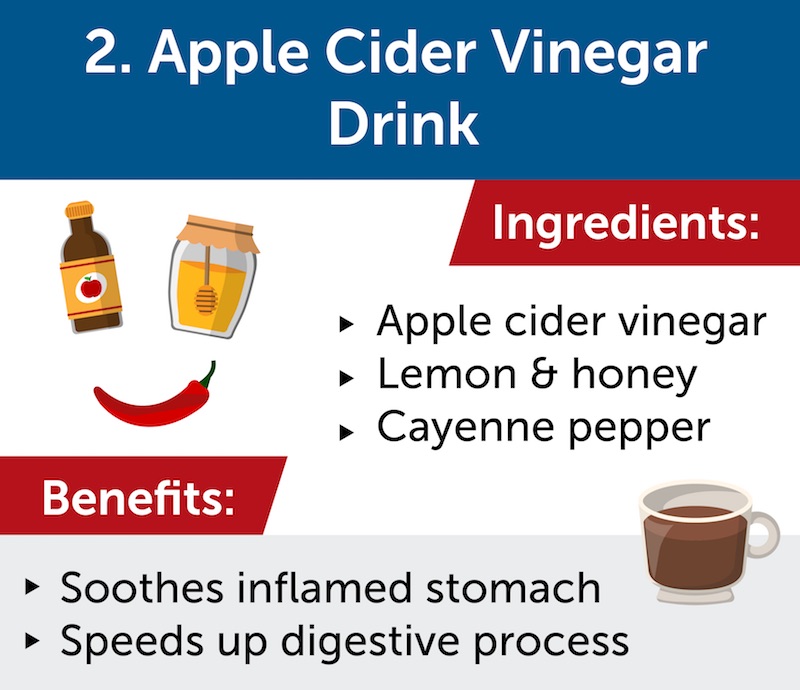 Ingredients:
¼ cup water
¼ cup apple cider vinegar
1 tbsp honey
1 tsp cayenne pepper
Directions:
Bring a ¼ cup of water to a boil on the stove.
Stir in ¼ cup apple cider vinegar into the water.
Add 1 tsp honey and 1 tsp cayenne pepper and mix thoroughly.
Squeeze one whole lemon and serve warm in a mug.
3. Turmeric Tea
If you have been looking for anti-inflammatory drinks, there's no doubt that you've come across recipes that talk about the
benefits of turmeric
. This turmeric tea, although a bit of an acquired taste, has a lot of perks for your gut and muscle health. It clears up sinuses, can be used a substitute for caffeine, and cures a lot of upset stomach issues. Pair this along with cinnamon and ginger, and this drink offers great pain relief for your inflamed digestive system or body aches. Here is how to make turmeric tea: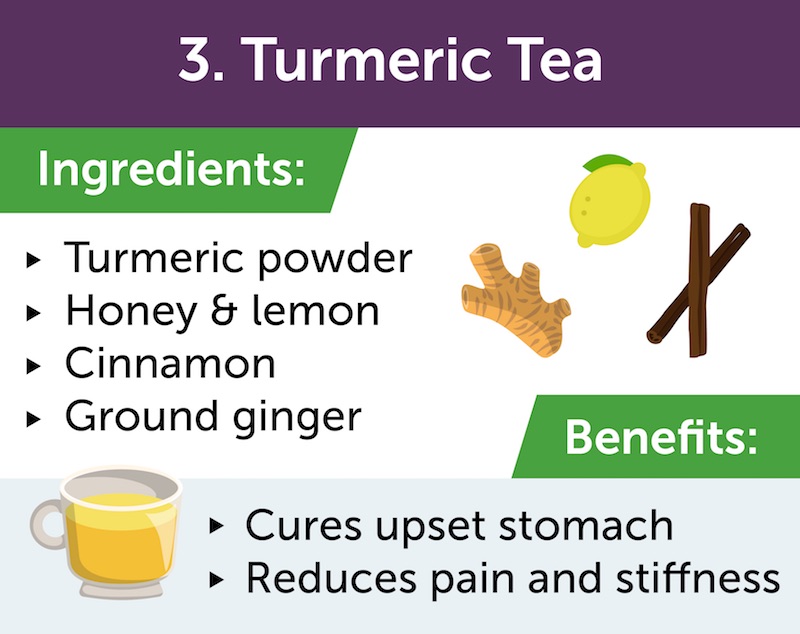 Ingredients:
1 cup water ¼ Tsp turmeric powder ¼ Tsp cinnamon ¼ Tsp ground ginger 1 lemon 1 tbsp honey
Directions:
Bring 1 cup water to a simmer.
Add ¼ Tsp of turmeric powder, ground ginger, and cinnamon and stir slowly.
Remove from heat and cover the pot, allowing the tea to infuse for at least 10 minutes.
Optional: use a strainer while pouring into a mug to make the tea smoother in taste.
Squeeze enough of lemon and honey to suit your personal taste.
4. Berry Beet Blast Smoothie
This smoothie recipe from
NutriLiving
is bound to settle anyone's upset stomach and is a wonderful way to start your morning. As previously mentioned, this drink includes turmeric which is common in many other anti-inflammatory drinks. It also has ginger, which is a powerful digestant, and you will also get a healthy dose of Vitamin C, folate, potassium, and manganese from the orange, strawberries, and beet. Blend the following products together to make this intense anti-inflammatory smoothie: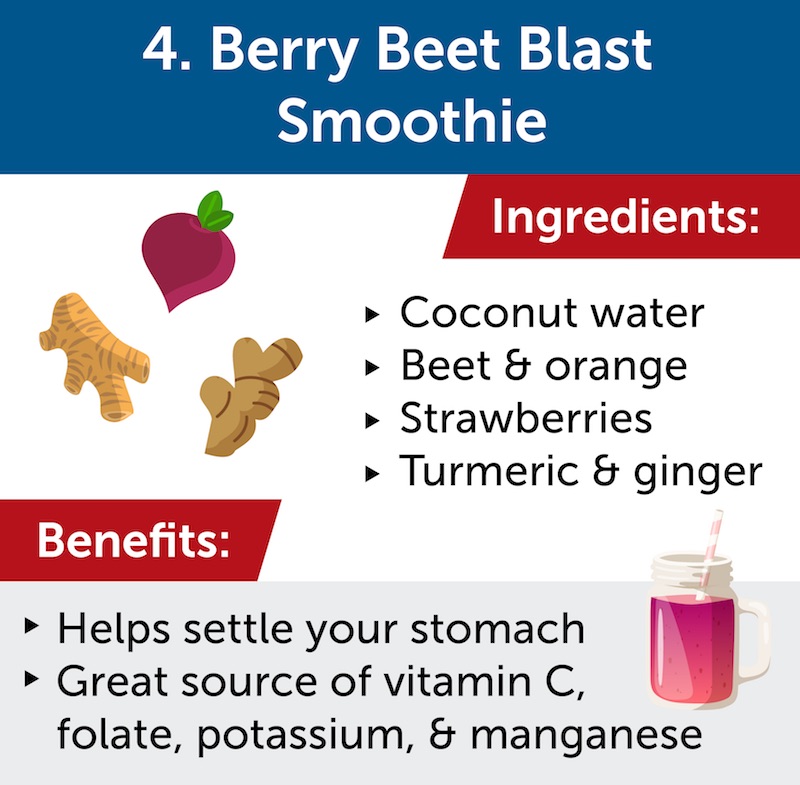 Ingredients:
⅔   beet
1   orange
1 cup strawberries
1 Tsp turmeric
½ Tsp ginger
2 Cups Coconut Water
5. Pineapple & Ginger Juice
Our last anti-inflammatory drink is a sweet one: the pineapple and ginger juice is both tasty and effective at relieving stomach pain. As we mentioned, pineapple is full of
bromelain
which helps your body recover, lemon reduces acidity in your stomach and muscles, celery and ginger reduce stomach and bowel inflammation, and the rest will provide your daily supplement of vitamin K, A, C, folate, and manganese. Chop up and juice these ingredients for a sweet treat that will soothe your stressed body: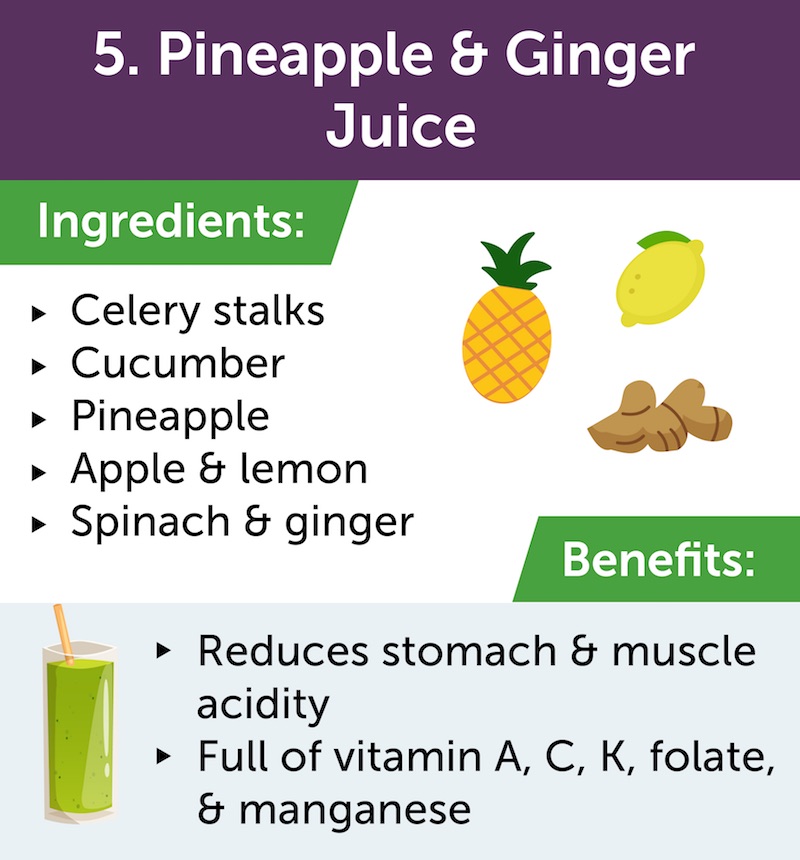 Ingredients:
4 celery stalks
1 cucumber (vitamin k)
1 cup pineapple
1 apple (vitamin a and c)
1 cup spinach (vitamin k, a, folate, manganese)
1 lemon
Small piece of ginger
How Pain Management Can Help
When you're unable to complete your daily activities due to recurring stomach or muscle pain, it's probably a good time to look into some pain management options. Arrowhead Health Centers offers numerous
pain and injury management
treatment programs to help get your health back on track. We find that a
customized pain treatment plan
is the best way to tackle pain head on. Pain management helps you find pain relief quicker with access to anti-inflammatory medicine, dietary advice, chiropractic care, or physical therapy. Whether you are suffering from digestive-related pain or chronic pain in your upper or lower back, Arrowhead Health Center physicians will do their best to assist you in your journey to recovery.
Contact us today to set up an appointment
.

Share this Image On Your Site