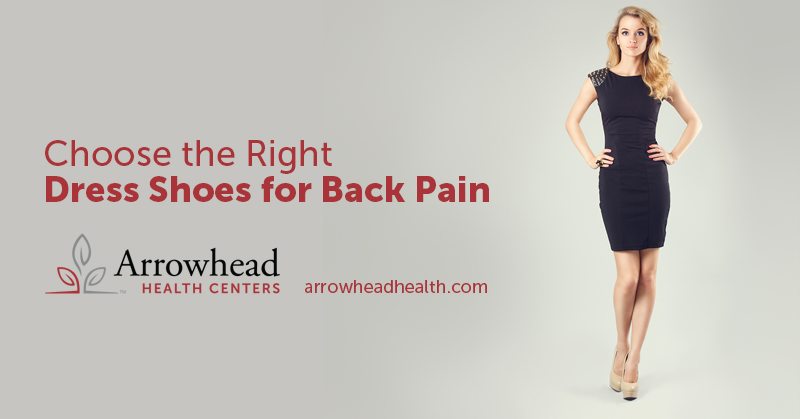 Have you been to the doctor lately? Chances are you've not only been, but you went because of an issue with your back. The American Chiropractic Association found that more that 50 percent of working Americans suffer from back pain each year and that back pain ranks as the number two reason people see a doctor. While there are many ways to address back pain, we want to talk about the best dress shoes for back pain and how to choose them for yourself. Shoes can make a huge difference in back pain. Think about it. The foundation of your spine is your feet. If your feet are out of alignment, then chances are your back is too, causing back pain. That's why it's important to select shoes that will help correct poor body alignment and support proper body alignment.
Tips to Selecting Dress Shoes for Back Pain
Now, we know you need to dress up, whether it's everyday or for the occasional wedding. But there's no excuse to buy crappy shoes that end up hurting your body in the long term while sparing your wallet in the short. We have put together a list of some of the better dress shoes for back pain, yet we must caveat these selections by giving you a few buying tips.
First, buy shoes that are comfortable. Uncomfortable shoes are a sign of poor quality, poor fit, or both.
Second, avoid squeezing your toes. This is common in women shoes that tend to narrow at towards the toe. Your toes were designed to give you balance and support, stuffing them into tight quarters hinders them from functioning properly. Instead, purchase shoes that have ample room for your toes.
Third, look for shock absorption. Unless you live in a house made of marshmallows, you spend most of your time on concrete, asphalt, tile, or a thin layer of carpet over concrete. Thus, your daily walking route is pound, pound, pounding your joints with every step. Invest in shoes with a nice layer of shock absorbing material – you'll know it when your foot steps inside.
Men's Dress Shoes for Back Pain
Vionic Eric – Men's Dress Loafers
Price $67.00 – $150.00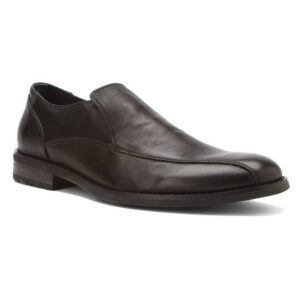 Made of synthetic materials, Vionic is a podiatrist-designed shoe featuring a biomechanical orthotic footbed. The deep heel cups help support and realign the feet back to their natural position, while the lightweight- flexible EVA midsole absorbs shock to reduce pressure on the feet- ankles and knees. This design is clinically shown to help relieve common causes of plantar fasciitis- heel pain and knee pain- related to over pronation and flat feet, according to
Vionic
. It also boasts the American Podiatry Association Seal of Acceptance.
Orthofeet Gramercy Men's Extra Depth Orthopedic Dress Shoes
Price $120-$150
For those needing a little more comfort, we suggest the Orthofeet Gramercy Men's Extra Depth Orthopedic Dress Shoe. You will sacrifice a little style with this one, but what it lack in flair, it makes up in comfort. Made of leather, this men's dress shoe features a removable, multi-layered orthotic insole with anatomical arch support and gel-padded heel which helps alleviate foot pain and heel pain associated with heel spurs and plantar fasciitis. The lightweight, cushioning sole with Ergonomic-Stride design softens steps and helps facilitate foot motion, alleviating stress on the joints of the foot, according to
Orthofeet
Corporation. The company also reports that this shoe was engineered to help reduce Foot Pain, Heel Pain, Arch Pain, Knee Pain, Forefoot Pain, Metatarsal Pain, Low Back Pain, and to enhance comfort for Diabetic Feet, Arthritic Feet, Sensitive Feet, Plantar Fasciitis, Pronation, Metatarsalgia, Morton's Neuroma, Bunions, Corns, Hammer Toes.
Women's Dress Shoes for Back Pain
Suggesting dress shoes for women is tricky, especially when you throw in the "dress shoes" criterion. Let's address the elephant in the room: heels instigate back pain. In fact, a
Harvard study
found that heel put significant
strain on the knees
and spine. So, we can't in good conscious recommend high-heels, but we do have two great alternatives for you, ladies.
Vionic Spark Minna Flat Shoes
Price: $39-$120 As will the men's Vionic shoe aforementioned, the Minna delivers a classy look while helping to reduce heel pain and improve body alignment, posture, and walking gait.  The contorted deep heel cup combined with the contoured arch support and deep heel cup helps reclaim your foot's natural alignment. This lovely shoe features a leather cap toe and bow detail for feminine flair, as well as an elasticized topline for stretch and a just-right fit, according to
Vionic
. And your have your choice of nine different colors!
Vionic Antonia Womens Leather Wedge
Price $30-$120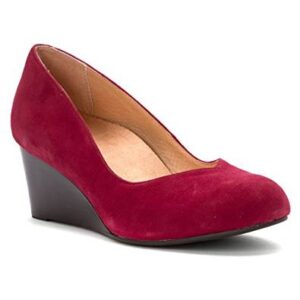 A wedge? How can we suggest a wedge? Well, we knew some women just can't stay away from the height of a beautiful heel, so we thought we would guide you to the best option if you're looking for a lift. The wedge is different from a traditional high heel in regards to the pressure put on the foot. In a high heel, the entire force of walking pressure is concentrated on a few pinpoint areas of the foot. This leads to increased shock in joints of the foot, ankle, knee, and eventually back. A wedge, on the other hand, spreads the force out more like a traditional flat shoe, thus avoiding the extremely jarring pressure of the traditional heel. We believe that with proper foot and body alignment, you can avoid knee and back issues. However, for those of you with
persistent joint pain
, a chiropractor or physician may recommend
regenerative therapy
to get your joints back in the shape they were in ten years ago. The regenerative therapy and pain management options at Arrowhead Health Centers are constantly setting people back on the walking path and enjoying their lives again.
If you'd like to learn more about this therapy and others, visit us online at
ArrowheadHealth.com
.