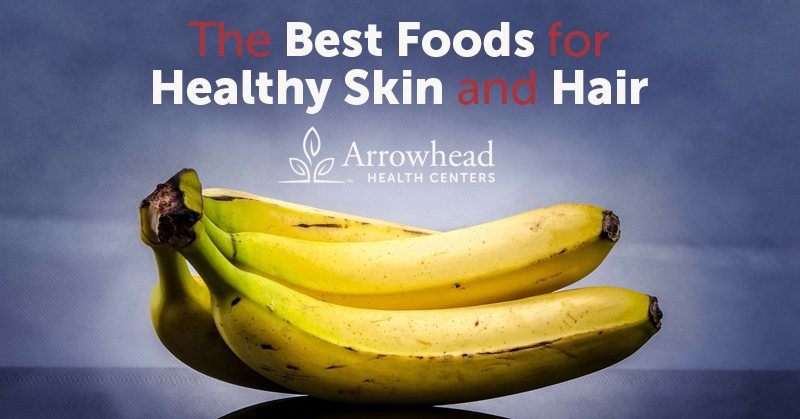 Arrowhead Health Centers' Medical Director,
Dr. Janice Johnsto
n
was recently interviewed by
Arizona Foothills Magazine
about the best foods for healthy skin and hair. Besides being a medical doctor, Dr. Johnston is an avid nutrition buff who keeps up to date with the latest in nutrition science.
Best Foods for Healthy Skin and Hair
While there are plenty of supplements and chemical products that promote healthy skin and hair, the best sources are from natural foods that the body is accustomed to breaking down and efficient at extrapolating nutrients from. These vitamins and nutrients are what give the skin its healthy glow and texture and your hair its thickness and shine. As the old saying goes, you are what you eat, so eat well and intelligently. Here are a few of the best foods for healthy skin and hair, recommended by Dr. Johnston herself:
Yogurt
Flaxseeds
Kale
Bananas
Asparagus
Grass-fed Bison
Sweet Potatoes
Cocoa
Walnuts
Green Tea
Pomegranates
Sunflower Seeds
Turkey
Bell Peppers
Pumpkin Seeds
Cranberries
The
article
breaks down each food and explains which vitamins and nutrients are provided by each food. Natural and organic sources are advised, but not a deal breaker. Just be advised that with veggies and fruits, the higher quality soil, the richer they are in nutrients. For yogurt, be sure to look for yogurt with the least amount of sugar. Yogurt with a high amount of sugar usually contains high fructose corn syrup which is highly processed. Sugar that is not bound to a protein or fiber (ie fruit) in general, is inflammatory, which is bad for your complexion and overall health. You can always add the suggested fruits and nuts into your yogurt to liven up the flavor.
More Nutrition Advice from Arrowhead Health Centers
Arrowhead Health Centers prides itself on our concern for our patients' overall wellness. With that, we provide nutrition and fitness advice so you can have the best information possible to improve your overall health. To make an appointment with Dr. Johnston or any of our family practice staff, visit our
contact page
.
Save
Save
Save
Save