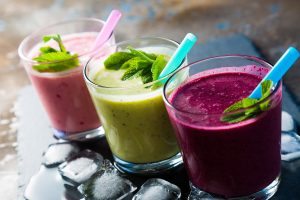 If they are not already there, your kids are most likely getting ready to go back to school. You might be thinking to yourself,
what do I add to little Johnny's lunch for him to snack on?
At Arrowhead Health Centers, we believe that children are our future so we have provided our
top five healthy snacks for school time
. These are in no particular order and are all a great source of nutrition.
1. Crunchies Roasted Veggies
Are you looking for a way to get your child's vegetable intake in as well as their daily serving of vitamins A and C? Look no further. Freeze-dried vegetables can easily make a fussy eater change their mind. Roasted Veggies are simple and pure, containing nothing but corn, peas, carrots, tomatoes, and red peppers. And they're fun for kids, with a delightful snap and a surprising sweetness that'll keep them reaching for more. Check out the nutrition facts
here
(image source). A snack like these is priced at about $4.99 and can be found at places like Whole Foods or Sprouts.
2. Smoothies
It's no secret that kids love sugar. If you make 100% fruit and vegetable smoothies for your children's after school healthy snacks, you'll be doing yourself (and them) a favor. Add non-fat yogurt (or Greek yogurt), organic orange juice, and any combination of frozen or fresh fruit and vegetables to get a delicious (and cane sugar-free) sweet treat! We think letting kids choose what goes into the smoothie and helping with the blending is a fun game too! (PS: Adding crazy colorful straws doesn't hurt either.) Check out our
favorite smoothie recipes
, but tell us your family's creations in the comments below!
3. Way Better Snacks
Have your kids ever begged for you to pack chips alongside their sandwiches? With Way Better Snacks, you can finally feel good about doing it. They're made from organic sprouted whole grains and seeds, sunflower oil, and quinoa, to name a few of the ingredients. They have flavors like Sweet Chili and Sweet Potato that will make your kid think they are just good old potato chips. There is no cholesterol, low sodium, and contains no sugar at all. Check out the nutrition facts
here
.  These will cost you about $3.49 per bag and can be found at Whole Foods, Fresh Market, and some other specialty grocery stores. (Image source:
www.abesmarket.com
)
4. Organic Valley 1% Chocolate Milk
This organic, great-tasting chocolate milk is only 1% milk fat and also not too sweet. We recommend tossing them in with your kids' lunch or even serving them with fruit and crackers for an afternoon snack. These beverages come in chocolate, strawberry, and vanilla. They come in 8-0z packages, 4-packs and 12-pack cases. Check out the nutrition facts
here
(image source). You can find them at just about any retailers across the U.S. for around $1.39 a pop.
5. Clif Kid Z Bar
These crispy bars make for a great midday snack or an after-dinner treat. We specifically like that they're organic, made with 8 grams of whole grains, contain calcium and iron, and don't have artificial flavorings or high-fructose corn syrup. They're available in flavors like chocolate, chocolate chip, peanut butter, and cookies 'n cream and contain only 9 grams of sugar per bar. Check out the nutrition facts
here
(image source).  They'll cost you about $0.89 and can be found at many grocery stores, including Target and Whole Foods.
Get Snackin'
Now that you know there is a healthy way to snack, we can't think of a reason that you will ever go back. So before you go and spend all your money on back to school clothes, take some time to get your kids some healthy snacks. (The health and lifestyle choice benefits will outlast that pair of Jordan's they want.) For more information about taking care of yourself check out some of our other blogs or give us a call at
623.777.5587
!