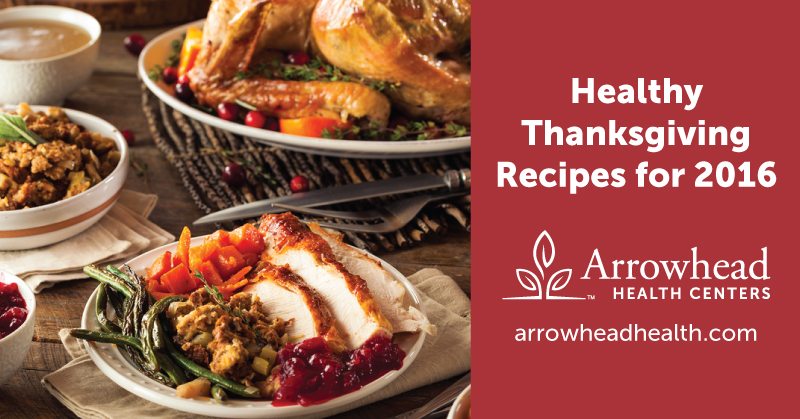 Thanksgiving is finally here, kicking off a full season of holiday celebration! And with food playing such an integral role to holiday celebrations, it is little wonder that this also
tends to be the season for weight gain
. But there are plenty of ways to make healthy choices, even while surrounded by rich and decadent dishes. If culinary creativity is not your thing, fear not! We have got you covered. Check out these healthy Thanksgiving recipes for you and your family to enjoy.
3 Healthy Thanksgiving Recipes
1.      Pomegranate Walnut Salad with Lemon Vinaigrette
This is one of our favorite and personal healthy Thanksgiving recipes. Pomegranates are a wonderful source of antioxidants and, luckily, they're also an incredibly diverse ingredient that can be added to almost any salad. By pairing them with walnuts and olive oil from this homemade vinaigrette, you will also get a healthy dose of good fats—monounsaturated fatty acids (MUFAs), to be exact—and still have plenty of room for all your other holiday favorites!
Ingredients:
For the Salad
       5 ounces (about 5 cups) of your favorite lettuce (arugula is a great pick!)
       ½ cup ripe pomegranate seeds
       ¼ cup chopped walnuts
       2 ounces crumbled goat cheese (optional)
For the Vinaigrette
       2 tablespoons fresh lemon juice
       1 teaspoon finely chopped lemon zest
       Salt & freshly milled pepper
       1 shallot, finely diced
       7 tablespoons extra virgin olive oil
Directions:
       Combine salad ingredients in a bowl, then set aside.
       In another bowl, combine the lemon juice, zest, ¼ teaspoon salt and shallot. Let stand for 15 minutes, then whisk in the oil with a little pepper to taste. Taste and correct the balance, adding more oil if needed.
       Just before serving, toss salad with vinaigrette.
2.      Roasted Pumpkin and Kale Soup
We have to thank Kathryne over at
Cookie and Kate
for putting together one of the most flavorful and healthy Thanksgiving recipes we've ever tasted. Pumpkin makes any fare more festive and soup is the ultimate comfort food. The cinnamon and nutmeg in this soup provide great anti-inflammatory properties, while the option to use coconut milk means that it is a great choice for a creamy soup that will not aggravate any lactose sensitivities.
Ingredients:
       4 tablespoons olive oil, divided
       One 4-pound sugar pie pumpkin (or two 14-ounce cans of pumpkin purée)
       1 large yellow onion, chopped
       4 large or 6 medium garlic cloves, pressed or minced
       ½ teaspoon sea salt
       ½ teaspoon ground cinnamon
       ½ teaspoon ground nutmeg
       ⅛ teaspoon cloves
       Tiny dash cayenne pepper (optional, if you like spice)
       Freshly ground black pepper
       4 cups (32 ounces) vegetable broth
       ½ cup full fat coconut milk or heavy cream
       2 tablespoons maple syrup or honey
       ¼ cup pepitas (green pumpkin seeds)
Directions:
       Preheat oven to 425 degrees Fahrenheit and line a baking sheet with parchment paper for easy cleanup. Carefully halve the pumpkin and scoop out the seeds (you can roast the seeds if you'd like—see note—but you won't need them for this recipe).
       Slice each pumpkin halve in half to make quarters. Brush or rub 1 tablespoon olive oil over the flesh of the pumpkin and place the quarters, cut sides down, onto the baking sheet. Roast for 35 minutes or longer, until the orange flesh is easily pierced through with a fork. Set it aside to cool for a few minutes.
       Heat the remaining 3 tablespoons olive oil in a large Dutch oven or heavy-bottomed pot over medium heat. Once the oil is shimmering, add onion, garlic, and salt to the skillet. Stir to combine. Cook, stirring occasionally, until onion is translucent, about 8 to 10 minutes. In the meantime, peel the pumpkin skin off the pumpkins and discard the skin.
       Add the pumpkin flesh, cinnamon, nutmeg, cloves, cayenne pepper (if using), and a few twists of freshly ground black pepper. Use your stirring spoon to break up the pumpkin a bit. Pour in the broth. Bring the mixture to a boil, then reduce heat and simmer for about 15 minutes, to give the flavors time to meld.
       While the soup is cooking, toast the pepitas in a medium skillet over medium-low heat, stirring frequently, until fragrant, golden and making little popping noises. You want them to be nice and toasty, but not burnt. Transfer pepitas to a bowl to cool.
       Once the pumpkin mixture is done cooking, stir in the coconut milk and maple syrup. Remove the soup from heat and let it cool slightly. You can use an emulsion blender to blend this soup in the pot. I prefer to use my stand blender, which yields the creamiest results—working in batches, transfer the contents pan to a blender (do not fill your blender past the maximum fill line!). Securely fasten the blender's lid and use a kitchen towel to protect your hand from steam escaping from the top of the blender as you purée the mixture until smooth. Transfer puréed soup to a serving bowl and repeat with remaining batches.
       Taste and adjust if necessary (I thought the soup was just right as is, but you might want to add more coconut milk for extra creaminess/milder flavor, or maple syrup to make it a little sweeter).
       Ladle soup into individual bowls. Sprinkle pepitas over the soup and serve. Let leftover soup cool completely before transferring it to a proper storage container and refrigerating it for up to 4 days (leftovers taste even better the next day!). Or, freeze this soup for up to 3 months.
3.      Glazed Chocolate-Pumpkin Bundt Cake
Just because you are committed to using healthy Thanksgiving recipes does not mean you have to miss out on dessert.
This recipe from EatingWell.com
is heart healthy and high in fiber, making it a delicious way to enjoy your holiday without worrying too much about holiday weight gain.
Ingredients:
For the cake
       1 cup all-purpose flour
       3/4 cup whole-wheat pastry flour
       1 cup granulated sugar
       3/4 cup unsweetened cocoa powder, (not Dutch-process)
       1 1/2 teaspoons baking powder
       1 1/2 teaspoons baking soda
       1 teaspoon pumpkin pie spice
       1/4 teaspoon salt
       1 cup nonfat buttermilk
       1 15-ounce can unsweetened pumpkin puree
       3/4 cup dark brown sugar, packed
       1 large egg, at room temperature
       1 large egg white, at room temperature
       1/4 cup canola oil
       1/4 cup light corn syrup
       1 tablespoon vanilla extract
For the glaze
       1/2 cup packed confectioners' sugar
       1 tablespoon nonfat buttermilk
       2 tablespoons mini chocolate chips, or toasted chopped nuts
Directions:
       Preheat oven to 350°F.
       Coat a 12-cup Bundt pan with cooking spray.
       Whisk all-purpose flour, whole-wheat flour, granulated sugar, cocoa, baking powder, baking soda, pumpkin pie spice and salt in a medium bowl.
       Blend 1 cup buttermilk, pumpkin puree, and brown sugar in a large bowl with an electric mixer on low speed.
       Beat in whole egg and egg white.
       Stir in oil, corn syrup, and vanilla.
       Gradually add the dry ingredients, stirring until just combined.
       Transfer the batter to the prepared pan.
       Bake the cake until a wooden skewer inserted in the center comes out with only a few moist crumbs attached, 1 to 1 1/4 hours.
       Let cool on a wire rack for 15 minutes. Remove from the pan and let cool completely on the rack, about 2 hours.
       To glaze & garnish cake: Combine confectioners' sugar and 1 tablespoon buttermilk in a small bowl, stirring until completely smooth.
       Place the cake on a serving plate and drizzle the glaze over the top; garnish with chocolate chips (or chopped nuts) while the glaze is still moist.
When thinking about food, people typically think healthiness means boring. But with a little creativity in the kitchen, it is easy to come up with flavorful recipes or twists on classic favorites to make sure your family and loved ones can enjoy their meals while getting good nutrients too!
And, for even more inspiration, be sure to check out last year's healthy Thanksgiving recipes or contact us. Our staff would be happy to provide you with meal ideas to meet your specific nutrition needs.