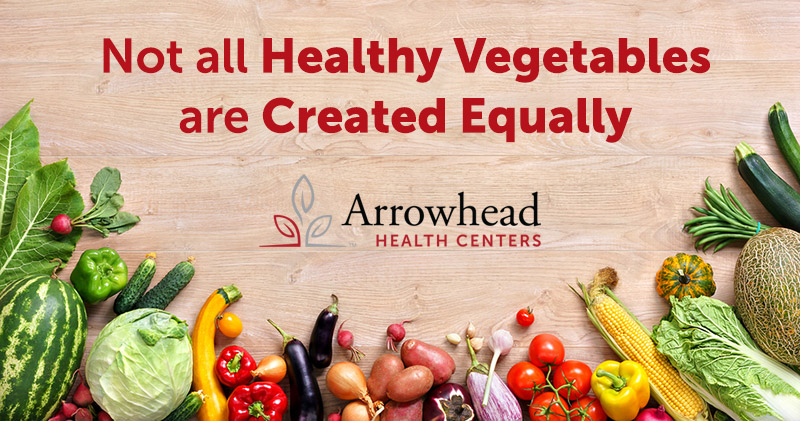 Did you know March is National Nutrition Month? In honor, we have taken the liberty of breaking down which vegetables are the healthiest and some not so healthy vegetables.
Nutrition: Healthy vegetables vs. healthy-ish vegetables
Spinach
Popeye did not eat all of that spinach for nothing! This green leaf is incredibly nutritious, dense, and has relatively few calories. In addition to being a good source of iron, protein, magnesium and fiber, spinach is packed with too many other nutrients to list in this article. Furthermore, spinach may be helpful in
managing a wide range of conditions
like diabetes and asthma, as well as providing antioxidants that are useful in the prevention of cancers. This healthy vegetable is also a
collagen boosting food
, meaning that it can be helpful in repairing tissue and joint damage. People suffering from conditions like OsteoArthritis may want to consider their nutrition and sneak some more spinach into their diets.
This recipe for turkey meatball spinach soup is sure to be a hit
!
Carrot
You probably know that carrots are good for eye health because of their Vitamin A content. But did you know that carrots are also rich in hyaluronic acid? Hyaluronic acid
is commonly used in a variety of treatments
and injections for conditions that involve the joints. In a nutshell, the substance acts to lubricate joints and as a shock absorber. To treat minor cases of cartilage damage or, more likely, as a way to supplement other treatments to confront OsteoArthritis in a holistic manner, up your carrot intake and reap the nutritional benefits!
Broccoli Rabe
When it comes to nutrition, broccoli rabe is one of the healthiest vegetables of all. Packed with potassium, iron, calcium, fiber as well as multiple vitamins and antioxidants, do not let the name fool you. Although people understandably think that broccoli rabe and broccoli are the same thing, because of their similarities in appearance and the obvious name similarity, broccoli rabe is actually
a completely different vegetable
and part of the turnip family.
Red Bell Pepper
Red bell peppers are superior to their green, yellow and orange counterparts because they hold the highest amounts of antioxidants of all bell peppers commonly found at the grocery store. The overall nutrition of these healthy vegetables, including anti-inflammatory properties of red bell peppers, make them a great addition to numerous dishes … Though enjoying them raw is just as tasty and helps to make sure you get all of their nutrients!

Least Healthy Vegetables
Before beginning this section, we would like to stress that there are no inherently unhealthy vegetables. However, if given a choice, these are the vegetables that will give you the least amount of bang for your nutritional buck.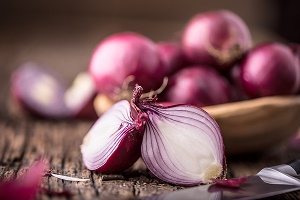 Onions
Onions are an okay-ish source of Vitamin C … And that is about it. Go ahead and add raw or cooked onions for some added kick to dishes, but try to incorporate other veggies as well for a well-rounded meal.
Celery
Celery. What is it good for? If we are being honest, it is mostly just a vehicle for fatty, calorie dense dips. It is a water dense vegetable, which is great. But you would be much better off drinking an actual glass of, um,
water
if you are worried about hydration and opting for some sliced bell peppers or another vegetable for your snack instead.
Cucumber
Similar to celery, cucumber is another water dense vegetable that does not have a whole lot else going on for it in the nutrition department. We love adding a few slices to a glass of water to give ourselves the spa experience and encourage more water consumption, but finding a more healthy vegetable substitute for dishes like salads is not very hard.
Consider zucchini
, for example. Serving for serving, you will get much more nutrition.
Iceberg Lettuce
While it is true that iceberg lettuce is a definite source of vitamins and nutrients, when compared to its darker leafy counterparts, the nutrition found in it is underwhelming. There is no harm in adding a slice to a sandwich, consider trying spinach, kale or romaine for better sources of nutrition. If you are a fan of iceberg lettuce in salads, consider mixing in some other greens as well. Though there really is not such thing as an "unhealthy" vegetable (unless you prepare it in a way that is super unhealthy like frying it), try to incorporate as many healthy vegetables as possible. And, if in doubt, always opt for any type of vegetable over processed junk foods!
Talk with a qualified health provider
about your medical concerns and how to start a personalized nutrition plan to optimize your health and well-being.