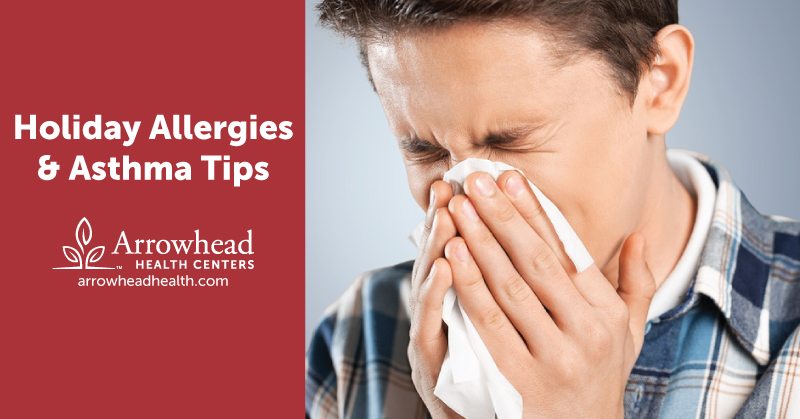 When you hear the phrase "seasonal allergies," most people think about bouts of sneezing and watery eyes brought on by pollen in the spring or fall. But for a lot of people, winter months and the seasonal allergies they induce can be just as (if not more) aggravating. While there may not be flowers blooming outside, the threat of encountering particular allergy triggers is a very real problem—especially around the holiday season—for more people than you probably realize. Whether you think you may be suffering from seasonal allergies and want more information or are playing host and want to be conscious of guests who may have holiday allergies and asthma, here is a rundown of common culprits from
Arrowhead Health Centers.
Seasonal Allergies or Holiday Allergies?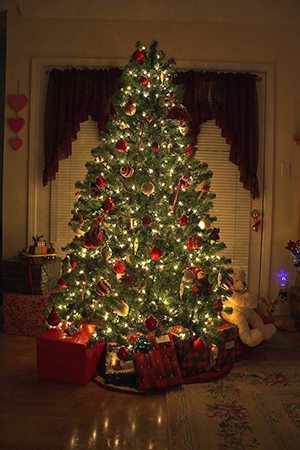 Think twice before you deck the halls. Live Christmas trees can be a nightmare for people suffering from certain holiday allergies and asthma for a myriad of reasons. Fear not! In most cases and with some precautions, you can still keep the tradition alive in your house even with Christmas tree allergies.
Christmas Tree Allergies
Allergies to the trees themselves are pretty rare. The main culprit to be concerned with is mold, which
is among the most common allergy triggers
 and is very often brought into the house along with the tree. Live Christmas trees are usually precut and stored in damp, humid environments while awaiting purchase. The moisture promotes spore growth, with spores then being released into the surrounding air (your house). While an allergy sufferer may not start sneezing immediately, indoor mold counts can increase sharply within a week or two when the tree is introduced. To a lesser extent, sap and other substances on a live tree can also be seasonal allergy triggers and cause irritation of mucous membranes (think stuffy nose). And, though you may not have guessed, Christmas trees also have pollen. So, no problem. Just get an artificial Christmas tree to avoid aggravating holiday allergies and asthma, right? Maybe. Depending on an individual's situation and specific allergies, an artificial Christmas tree may not be an ultimate solution either. Depending on how the tree is stored,
dust (another allergy trigger)
can exacerbate holiday allergies and asthma too. If you know whether dust or pollen is the bigger aggravator for your seasonal allergies, choose accordingly. If you do end up going with a fresh tree, do not bring the tree into the house immediately. Give it a good shake to remove as much mold and pollen as possible. Then hose it down and let it dry completely before bringing it in. If you are going the route of the artificial tree, make sure to remove as much dust as possible before bringing it in. And whichever route you choose to go, antihistamines like Benadryl can help if you still find yourself suffering from Christmas tree allergies even after taking precautions!
Holiday Decorations
In the same vein as the Christmas tree allergies section outlined above, other holiday decorations (stockings, menorahs, nativity scenes, etc.) can trigger nasty holiday allergies and asthma, principally because of dust or due to the effects of fresh plants as decorations. Sometime soon after Thanksgiving (or Halloween, if you are especially festive or eager), most people will break out the holiday decorations from their attics or garages. That stuff has been boxed up accumulating dust for the whole rest of the year, making the decorations a prime culprit for seasonal allergies. Thankfully, your decorations are probably much easier to clean than a Christmas tree. Just check your holiday spirit for long enough to make sure everything is thoroughly dusted before bringing it into the house. And if you are a fan of boughs or wreaths of holly, you will also be glad to know that these plants have minimal amounts of pollen and are less prone to mold than Christmas trees.
Smoke Allergies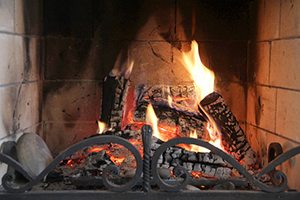 There is nothing like "chestnuts roasting on an open fire" to conjure up the very picture of Christmas. But, for those suffering from holiday allergies and asthma (especially asthma), the smoke and ash that results from a wood burning fire can be very irritating and lead to respiratory problems. While gas fireplaces are usually no problem, but the gasses and particles released into the air when wood burns is a nightmare allergy and asthma trigger. If you or someone you love suffers from holiday allergies and asthma, consider
alternatives to decorative candles
where you can and forego the wood burning fire.
Air Fresheners
Who does not love the smell of fresh baked cookies or fresh balsam wood around the holidays? This is why so many people turn to air fresheners of many types (sprays, candles, oils, gels, beads, plug-ins, etc.) to enhance the festive atmosphere in their homes. It's like a shortcut! But for people who struggle with seasonal allergies and asthma, it might conjure up breathing problems rather than happy nostalgia. At their most basic level, airborne allergies are negative reactions to certain particles in the air. The same particles emitted by air fresheners—even the ones labeled "green"—can easily irritate the respiratory system just the way dust or mold would. As a safer alternative, consider simmering water on your stove with some of your favorite things like cinnamon sticks, vanilla, citrus or other aromatics. And try different combinations until you find your favorite! Not only will you be able to fill your home with a scent that is true to you, you will also rest easy knowing that no one will have an asthma attack as a result. If you think you may be suffering from holiday allergies and asthma,
we would
love to help you identify your triggers and come up with a treatment plan.
Contact us today for an appointment
with one of our
family practice professionals!