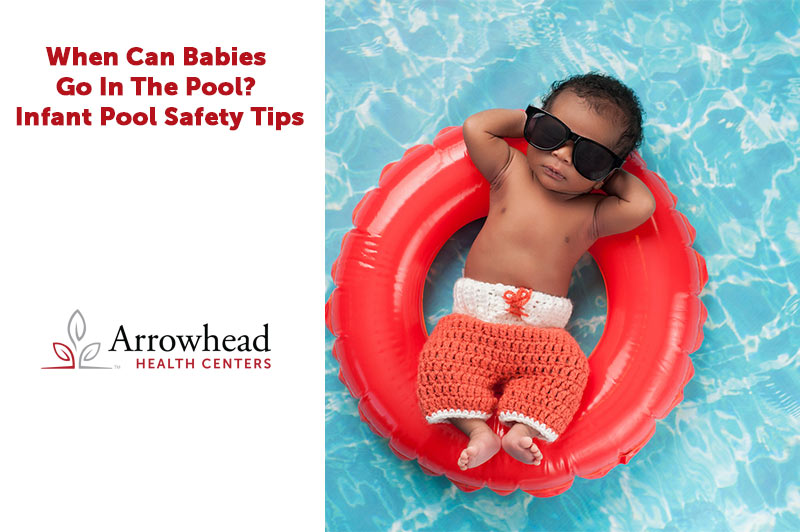 Temperatures have now reached triple digits here in Phoenix and we can only expect it to get hotter from here over the next few months. With the weather getting hotter, you may find yourself wanting to take a dip and go for a swim. That's great! However, if you are the proud parents of a new infant, be sure to use caution.
Infant Pool Safety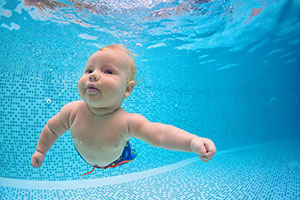 There are several things you need to be aware of when
introducing your little one to a swimming pool
, or outside conditions in general. First, sunscreen. If your infant is younger than six months, you should not expose them to sunlight for long periods out in the sun. Their skin is too sensitive. You also should avoid using sunscreen on children younger than six months of age, which is another reason to avoid having them in the sun for long periods of time. The greater ratio of the surface area of their skin in relation to their body weight means that they are more susceptible to absorbing the chemicals in the sunscreen. Furthermore, as you have probably noticed, babies have a tendency to put their hands in their mouths … meaning they are likely to ingest some sunscreen even despite your best efforts. If you do decide to take your baby out in the sun, try to do it outside of the sunniest hours of the day (from 10 a.m. until 2 p.m.) and consider alternatives methods of sun protections like hats and UV resistant clothing. Always keep your baby in the shade as much as reasonably possible. And when they do reach the 6 months mark and
your pediatrician gives you the go ahead
to
slather him or her with sunscreen
, consider baby sunscreen that is formulated to be more gentle on their sensitive skin.
Pool chemicals
If you maintain your own pool, or even if you have someone do it for you, then you are probably aware that there are many chemicals used to keep the pool free of bacteria, algae, etc. These chemicals go beyond just chlorine. The list can include harsher chemicals, such as acid. It is important to monitor the levels in your pool. Chlorine levels, acidity, PH levels and so on. If the levels are too low, bacteria and algae can form in the pool, which can lead to potential health problems, especially for infants and toddlers. If the levels are too high, it can cause skin irritation for infants and adults alike. Saltwater pools can be infinitely more conducive to accommodating babies' sensitive skin. Along the same lines, you will want to be sure that babies swallow as little pool water as possible. If you are confronted with a pool that obviously smells of chlorine, consider avoiding it altogether if your baby is in tow.
Body temperature
Another thing to keep in mind when swimming with infants is water temperature. Infants do not regulate body temperature as well as adults, or even toddlers do. As mentioned earlier, babies have much more skin surface area in relation to their body weight, which is the primary reason for their sensitivity to temperature. Their temperature tends to fluctuate more. Test the water to ensure that the temperature is suited for younger children before just diving in with them. Ideally, a pool will be between 85 and 87 degrees Fahrenheit. If you notice that your baby feels especially cold or is he starts to shiver, it is definitely time to get out. Alternatively, babies are also sensitive to warm water and should under no circumstances go into especially warm pool water or a hot tub.
Swim diapers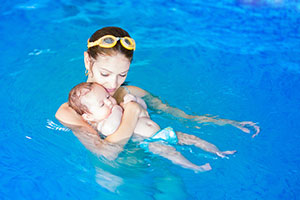 Sure, swim diapers are cute. But they also play a very important role in safely swimming with your infant. Traditional diapers are not just taxing on a pool's filtration system (they expand as they absorb water and tend to disintegrate), but they are also less effective at preventing the contamination of pool water with fecal bacteria. 
Recreational water illnesses
are a serious concern (and yet another reason you want to ensure your baby does not ingest pool water).  In fact, Phoenix area infants and toddlers have gotten incredibly sick and even died in cases of bacterial infections from pool waters in the past. If you do think that your pool may have been contaminated by fecal matter (stuff happens), get everyone out of the pool immediately. After disposing of the incriminating matter, increase the chlorine levels in your pool and follow the other steps outlined in
the Center for Disease Control's recommendations
.
Water safety
Water wings, floating devices, and other flotation devices are wonderful and allow kids to safely have some independence. The sensation of weightlessness and their increased range of motion in the pool can be a lot of fun for babies! But, always keep them within an arm's length. Things can change in a heartbeat. Additionally, be sure to stay out of the deep end and in an area of the pool where you can comfortably touch the bottom. Although the above recommendations may seem overwhelming – especially to new parents – rest assured that you can enjoy the swimming pool with your infant this summer. Just be sure to take all proper precautions first! If you have any questions,
please contact us!