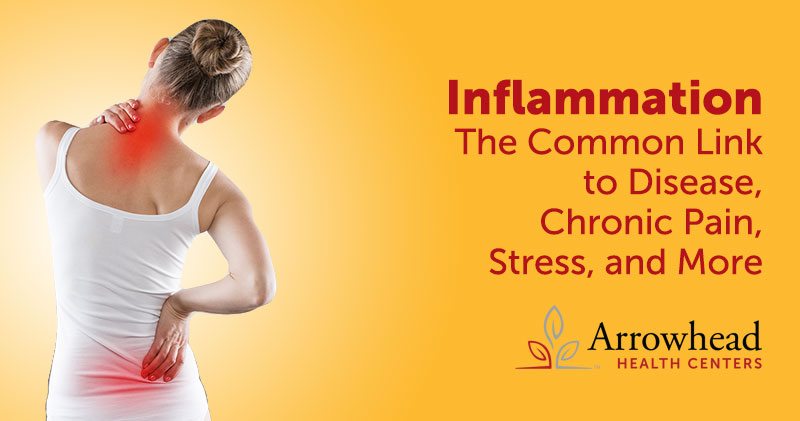 Inflammation is your body's natural response to injury and illness. It is an important component in the natural healing process. So it may be counterintuitive, but over time, inflammation is associated with or can lead to a myriad of disorders.
What You Should Know About Inflammation
Inflammation is the hallmark of the complex biological response of the body to harmful or foreign stimuli like pathogens (if it is in response to infection or sickness), irritants (c
ertain chemicals, for example) or to damaged tissues (is the case with inflammation in injuries). You are probably familiar with the redness, swelling, and heat associated with inflammation. These things occur because when the response is triggered, blood and fluid are rushed to the affected area. This is the cause of the sometimes observable swelling and redness. Without getting too technical, blood carries white blood cells and plasma proteins that are responsible for eliminating foreign substances and
initiating the healing process
. Additionally, chemicals produced by damaged cells or tissues can further contribute to inflammation.
What is Acute Inflammation?
Acute inflammation, that is inflammation that is in response to a legitimate threat to your body and that subsides within a reasonable amount of time, is a perfectly healthy immunological response and, in fact, a sign that your immune system is doing what is supposed to do. On the other hand, chronic inflammation (inflammation that does not go away) is an indicator of something that should be cause for concern.
Common Causes of Inflammation
As mentioned earlier, inflammation is usually caused in response to some type of contaminant or injury. Sometimes the body's immune system responds with the inflammatory functions described above, even when there are no harmful stimuli present. Instead, the immune system is attacking the body's own healthy tissues. When this happens, it is the results of either autoimmune diseases (malfunction of the body's adaptive immune system) or
autoinflammatory diseases
(malfunction of the body's innate immune system). Arthritis is a common example of the phenomenon. The body acts as if otherwise healthy joints are somehow injured or infected, causing damage to its own tissues instead. Examples of autoimmune diseases include Grave's Disease and Hashimoto's Disease (which affect the thyroid), rheumatoid arthritis (in which the body's immune system attack the tissues comprising and surrounding joints),
Inflammation Can Cause …
In addition to diseases being caused by inflammation, the inflammatory response can have a domino effect and bring on other disorders as well. While rheumatoid arthritis is caused by inflammation (and, therefore, considered inflammatory arthritis), inflammation plays a role in "non-inflammatory" arthritis as well. Anyone who has ever suffered from osteoarthritis was probably shocked to learn that it is considered non-inflammatory. The difference here is the relationship between osteoarthritis and inflammation. Rather than being
caused by
inflammation, osteoarthritis is caused by injury to the joint, which then triggers inflammation as the body's attempt to repair broken down cartilage. Areas of the body other than joints can suffer from inflammation and chronic pain (pain that persists for longer than a month), especially in the back, is a typical result. Beyond the joints, inflammation is also thought to
contribute to depression
, though the medical field has yet to decide definitively whether it is the cause or a symptom. This can be especially difficult to treat because those with overactive immune systems (those at the highest risk of inflammation) are also less likely to respond to prescription antidepressants.
Ways to Reduce Inflammation
There is no definitive test for inflammation, certain blood tests for c-reactive proteins and specific amino acids can help qualified health providers narrow in on and successfully diagnose inflammatory disorders. There are steps that can be taken to supplement professional treatment to reduce inflammation. For example, aerobic exercise,
certain foods, and nutritional supplements
can all contribute to reducing inflammation throughout the body. For example, omega-3s in foods like salmon, polyphenols in green tea and spices like turmeric are all known to have anti-inflammatory properties. On the other hand, some foods can actually make inflammation worse. Fried and processed foods contain Advanced Glycation End products (AGEs), which
are associated with increased
inflammation. Additionally, the arachidonic acid found in egg yolks also contributes to increased inflammation.
Inflammation Treatment
In more serious cases, at home methods to reduce inflammation are no substitute for treatment from qualified, licensed medical practitioners. If you have been suffering from unexplained pain, fatigue or if the treatments you have received for injuries or other inflammation-associated disorders have not worked,
contact
us for a consultation. Our providers have decades of experience treating the whole gamut of inflammation caused and inflammation causing disorders.