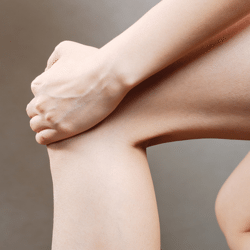 One of the integral parts of our OsteoArthritis knee injections, along with the 8-week rehabilitation program, you will undergo 5 knee injections that will help lubricate the knee, and in conjunction with the
rehabilitation
, will allow your knee to regain its ability to be weight-bearing.
OsteoArthritis Knee Injections
These injections are filled with hyaluronic acid (or HA), a lubricant and shock absorbing fluid found naturally within the knee. Each of the injections will be administered at Arrowhead Health Centers using a live-motion x-Ray that enables us to have incredible accuracy as we inject the medication. We can actually see the needle as it enters the joint space within your knee. Each injection is guaranteed to deliver the HA to where it needs to go. Many OsteoArthritis of the knee programs will include injections, but the biggest thing missing in the live motion x-Ray. Using this eliminates the possibility of hitting a nerve or causing more damage within your knee, which can be a real hesitation for patients looking into a program for their OsteoArthritis of the knee.
Here's some facts about hyaluronic acid:
As we age, the viscosity of our naturally occurring hyaluronic acid will begin to lessen. This is a common cause of OsteoArthritis of the Knee.
Hyaluronic acid is naturally found within the body which is why the injections are taken so well by our patients.
It can be taken orally, but the injections will have a more profound effect on the knee joints.
The injection will allow the hyaluronic acid to cushion your joint, relieving discomfort from the impact of walking and will lubricate and nourish the cartilage.
Intimidating part of OsteoArthritis Knee Injections
We know that injections can be the most intimidating part of our OsteoArthritis of the Knee program. That's why we love being able to tell prospective patients that there's no need to worry. Once our patients have their first injection, they can't wait to have another because the benefits are immediate and lasting. Another great aspect of our OsteoArthritis of the Knee Program is that it's almost always covered by insurance, reducing the strain on your wallet. If that is part of the reason you haven't addressed your OsteoArthritis, give us a call and we can help you find out if your insurance will cover our program.
Questions about the hyaluronic acid injections
If you have questions about the hyaluronic acid injections or any other aspect of our program, don't hesitate to call 623-334-4000, extension 9. With a 91% success rate, you'll be sure to feel relief from the pain and limitations that OsteoArthritis can put on one's life.