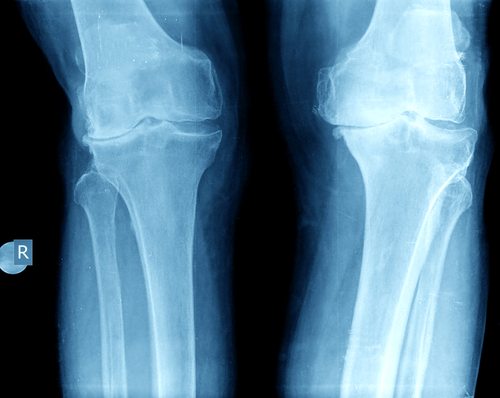 Knee pain can be debilitating, and it should be handled as soon as possible. Depending on where you seek treatment, you may be recommended pain management (including the use of prescription medications), a rehabilitative program like our OsteoArthritis Treatment Program, or even a large procedure like a knee replacement. There are some circumstances in which a knee replacement is advised, but we've found so much success in our OsteoArthritis of the Knee Program that we recommend completing at least one 8-week round of treatment before reconsidering a knee replacement. Knee replacements can have some potentially negative side effects so it's important to spend time making your decision, getting second opinions and weighing the pros and cons. Here are some of the risks associated with a total knee replacement:
The risk of post-operative infection is relatively low, but in the chance that it happens, it can be detrimental to the healing of your knee and your ability to get back to an active lifestyle.
Knee replacement can cause blood clots. Unfortunately, those blood clots can travel into the lungs, causing a pulmonary embolism, resulting in shortness of breath and chest pain.
Complications from anesthesia, while also unlikely, can result in other health issues beyond the knee.
As a result of a knee replacement, joint movement can be decreased. It takes a huge toll on the body and depending on the type of physical rehabilitation completed after surgery, patients can experience extreme stiffness and never regain their full range of motion.
Patients can experience prolonged swelling following a knee replacement. Over-use of the joint can result in fluid collection in the knee, making it uncomfortable to bend.
While some patients obtain a positive outcome from knee replacement surgery, a high number of them have to deal with one side effect or another. That's why we always recommend joining our OsteoArthritis of the Knee Program before resorting to costly major surgical procedure like a full knee replacement. Our incredible 8-week program has had a 91% success rate, helping so many of our patients resume normal activity, experiencing little to no pain. The best part of our job here at Arrowhead Health Centers is watching someone walk out on their last day of treatment with a pep in their step. To get more information on our OsteoArthritis of the Knee Program please call 623-334-4000, extension 9. We can discuss your insurance coverage and what our 8-week program entails from treatment to rehabilitation.