Our on-site Ambulatory Surgical Centers (ASC) specialize in same-day pain management surgical procedures. The ASC offers patients a convenient, safe, and affordable alternative to hospital-based procedures. Using the same technologies as major medical centers, the ASC can perform procedures at a savings of more than 50%, as compared to a traditional hospital setting. You can even return home on the same day!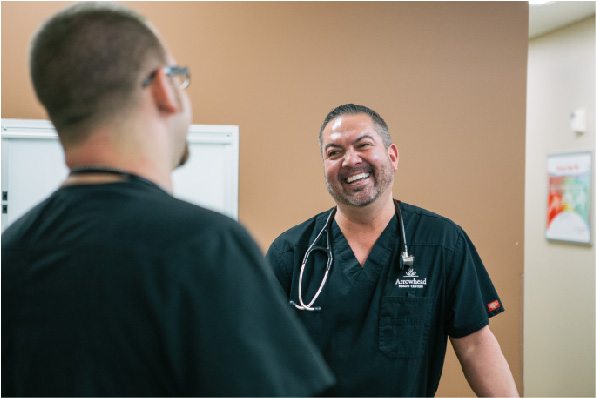 Overview
Surgical procedures performed in our ASC are elective, so patients are healthy and the risk of infection is much lower than in hospital-based surgeries. If you have back, neck, joint, hip, or any other pain, procedures performed in our ASC may be able to help relieve your pain so that you can regain your lifestyle. We perform the following procedures to help patients who suffer from a wide variety of pain problems.
Epidural Steroid Injections
The use of anesthetic and steroid medications injected into the epidural space of the spine to reduce swelling, relieve pain, and/or diagnose a specific condition.
Facet Injections
Injections used to provide pain relief and to determine if the facet joints are the source of pain.
Medial Branch and Nerve Blocks
Injections done to reduce inflammation and pain and to determine if a specific spinal nerve root is the source of pain.
Radio-Frequency Neuroablation
This procedure "turns off" pain signals by applying heated electrodes to specific nerves that carry pain signals to the brain.
Sympathetic Block
A local anesthetic injection that blocks the nerve signals at various levels in the body to relieve pain.
Spinal Cord Stimulation
The use of electrical impulses that are used to block pain from being perceived in the brain.
Manipulation Under Anesthesia
A non-invasive procedure that treats acute and chronic conditions, including neck pain, back pain, joint pain, fibrous adhesions, and long term pain syndromes.
Surgical Center
After one of our skilled Pain Management physicians determines that you could benefit from a procedure in our ASC, you will be contacted by our surgery center staff to discuss everything you need to know to be ready for your procedure. Our team of friendly and compassionate personnel will do everything they can to make your visit with us comfortable and pleasant.
AAAHC Accredited Center
Ambulatory Surgical Center is licensed by the state of Arizona and certified by the Center for Medical Services to care for our patients. We are proud to be an AAAHC accredited center.
Schedule a consultation with a surgeon today.
Call 623-334-4000 to speak with a helpful and friendly representative or click on the button below.