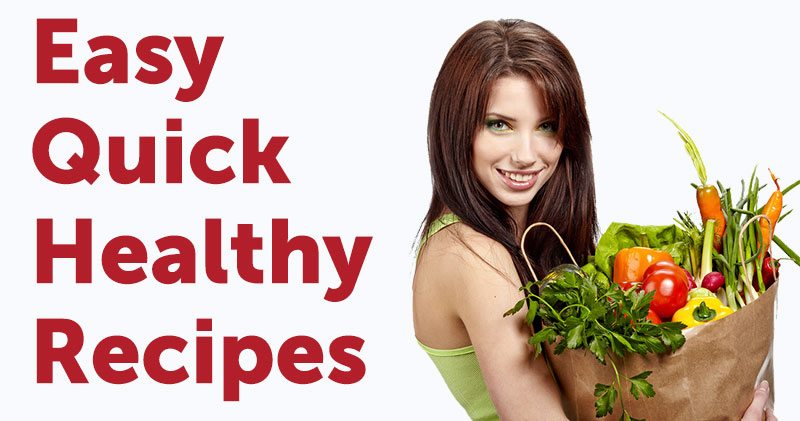 In the struggle to eat healthily, it can be easy to fall into a rut of preparing the same meals over and over again. From
relieving osteoarthritis pain
 to enjoying
better-looking skin
, diet is an important factor in how we look and feel. Here are some of our favorite healthy recipes that include ingredients known for their abilities to contribute to your overall health and well-being.
Our Favorite Healthy Recipes
Grilled Pork with Blackberry-Sage Sauce
Blackberries take center stage in this delicious recipe. In addition to being very low in calories,
blackberries have one of the highest antioxidant
levels of all fruits and are rich in bioflavonoids and Vitamin C. Combined with fresh, flavorful sage, this healthy recipe will be a hit with even your pickiest of eaters!
Ingredients
Cooking spray
2 tbsp. minced shallots
3 cups fresh blackberries (about 1 lb.)
1.2 tsp. chopped fresh sage
1 (14 oz.) can fat-free, less-sodium chicken broth
2 tbsp. balsamic vinegar
1-1/2 teaspoons sugar
1 tbsp. butter
¾ tsp. kosher salt, divided
1 tsp. black pepper
1 (1-1/2 lb.) pork tenderloin, trimmed
Sage-sprigs (optional)
Preparation
Prepare grill to medium heat. Heat a medium saucepan over medium heat. Coat pan with cooking spray. Add shallots to pan, cook 3 minutes or until tender, stirring occasionally. Add blackberries, sage, and broth; bring to a boil. Reduce heat and simmer 20 minutes or until blackberries break down. Press blackberry mixture through a fine sieve over a bowl; discard solids. Return liquid to pan. Stir in vinegar and sugar; bring to a boil. Cook until reduced to ¾ cup (about 9 minutes); remove from heat. Stir in butter and ¼ teaspoon salt, stirring until butter melts. Keep warm. Sprinkle remaining ½ teaspoon salt and pepper over pork. Place pork on grill rack coated with cooking spray; cover and grill 20 minutes or until a thermometer registers 155 degrees (slightly pink), turning pork occasionally. Let stand 10 minutes. Cut crosswise into ¼-inch-thick slices. Serve with blackberry sauce; garnish with sage sprigs, if desired.

Turkey Meatball Spinach Tortellini Soup
As one of our favorite healthy recipes for a cold day, this homemade soup is low in calories and packed with nutrients! And, because soup is so easy to prepare, you don't have to worry about slaving away in the kitchen to ensure that your family gets a healthy meal.
Ingredients
For the meatballs:
10 oz. 93% ground turkey
2 tbsp. seasoned whole wheat breadcrumbs
2 tbsp. grated parmesan cheese (Parmigiano-Reggiano)
2 tbsp. parsley, finely chopped
1 large egg
1 clove garlic, minced
1/8 tsp. kosher salt
For the soup:
½ tbsp. unsalted butter
2 stalks of celery, chopped
1 small onion, chopped
1 large carrot, peeled and chopped
2 cloves of garlic, minced
4 (14.5 oz.) cans reduced sodium chicken broth
1 small Parmigiano-Reggiano rind (optional)
9 oz. refrigerated spinach cheese tortellini (Buitoni)
Fresh-ground black pepper, to taste
3 cups loosely packed baby spinach
Fresh grated Parmigiano-Reggiano for topping
Directions
Combine the ground turkey, breadcrumbs, egg, parsley, garlic, salt and parmesan cheese. Using your (clean) hands, gently mix all the ingredients well until everything is combined. Form small meatballs, about 1 tbsp. each. You will get about 20-22 of them. In a large nonstick pot of Dutch oven, melt the butter over medium-low heat. When melted, add the celery, onion, carrot and garlic. Cover and reduce heat to low and cook for approximately 8-10 minutes, until vegetables begin to soften. Add the chicken broth and parmesan rind and increase heat to medium-high and bring to a boil. When broth boils, season with black pepper to taste. Reduce heat to medium and gently drop in the meatballs. Cook about 4 minutes. Add the tortellini and simmer until cooked according to package directions, about 7 minutes. Once cooked, remove the rind and add the baby spinach. Stir to combine and serve topped with freshly grated Parmigiano-Reggiano.
Adobo Pumpkin Quesadillas
Outside of the fall months, pumpkin is an ingredient that does not get enough love.
Not only are pumpkins rich in carotenoids and beta-carotene
, which is especially good for your eye health, but the gourds are also DELICIOUS. Try these simple adobo pumpkin quesadillas for a new twist on a classic.
Ingredients
½ cup canned pumpkin
1 tbsp. adobo sauce (from a can of chipotles)
4 flour tortillas
Butter
Cheddar-jack cheese, shredded
Directions
Mix together pumpkin and adobo sauce, spread on 2 flour tortillas. Sprinkle with cheese and top each with another tortilla. Cook on a hot, buttered skillet until golden. Cut into wedges and serve.
Spicy Black Bean Burgers with Chipotle Mayo
With all of the beautiful weather in the Phoenix area lately, BBQ season is right around the corner! Whether you're looking to treat yourself this weekend or entertaining a crowd, these healthful burgers (
packed with cartilage-friendly legumes
) will have everyone asking for seconds!
Ingredients
Spicy chipotle mayo
3 ½ tbsp. mayonnaise
1 tbsp. chopped chipotle chili in adobo sauce
bean burgers
1 (15 oz.) can reduced-sodium black beans, rinsed and drained
½ red bell pepper, roughly chopped
½ cup roughly chopped scallions
3 tbsp. roughly chopped fresh cilantro
3 garlic cloves
½ cup quick-cooking oats
1 large egg
1 teaspoon cayenne pepper hot sauce, such as Frank's
1 tablespoon ground cumin
¼ teaspoon kosher salt
Cooking spray
4 whole wheat potato rolls (approx. 90 calories each)
Additional toppings
1 medium (4 oz.) Has avocado, thinly sliced
Directions
For the spicy chipotle mayo: In a small bowl, combine the mayonnaise and chipotle. Set aside. For the black bean burgers: Dry the beans well after rinsing (any extra moisture will keep the burgers from holding together well). Put the beans in a medium bowl and mash them with a fork or potato masher until thick and pasty. In a food processor, combine the bell pepper, scallions, cilantro, and garlic. Pulse until finely chopped. Add the oat, egg, hot sauce, cumin and salt and pulse a few times until well mixed. Form the mixture into 4 patties (using slightly oiled or wet hands helps) and put them on a baking sheet lined with wax paper. (If the mixture is too wet, refrigerate it for 30 minutes or add another tablespoon of oats.)
Freeze for at least 2 hours before cooking.
To cook, heat a nonstick skillet over medium heat. Lightly spray the skillet with oil and cook the frozen burgers until browned, about 7 minutes per side. (Alternatively, preheat a grill to medium, lightly spray a sheet of foil with oil, put the burgers on the foil and grill until browned, 7-8 minutes per side.) To serve, place the burgers on the buns and top with the spicy chipotle mayonnaise and avocado slices. For more great ideas to integrate better foods into your diet and to enjoy a healthier lifestyle, be sure to check out these recipes
and more in Healthstyle Magazine!