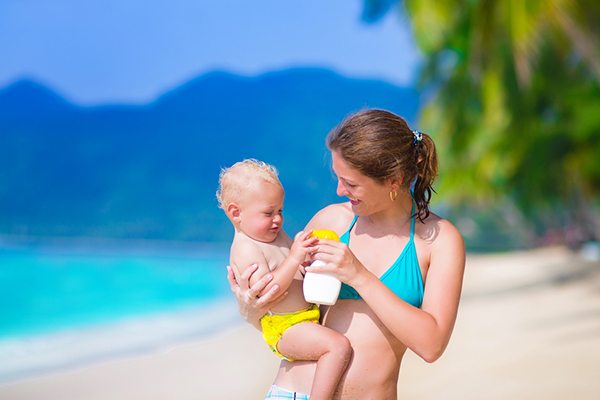 When triple-digits set in, there's nothing like an ice cold beverage and a dip in the clear, blue water to cool you down. While you're headed to your watery haven, don't forget sunscreen as an essential part of your summer experience. For many of us the never ending sunscreen choices can be tricky, but with 1 in 5 Americans getting
skin cancer,
proper SPF choice is an important one.
What's the SPF Magic Number?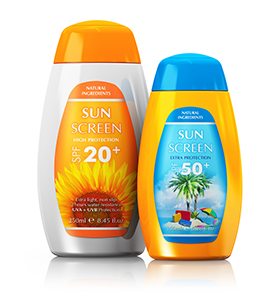 The SPF or Sun Protection Factor indicates the level of protection that particular sunscreen gives you as compared to no sunscreen. The time it takes for a sunscreen to wear off depends on the length of time it takes for your skin to burn without protection. For example, if it takes your skin 10 minutes to burn without sunscreen, then an SPF of 20 gives you 20 times the protection or 200 minutes until you burn. Here's an equation to help you figure out what you need:
Minutes to burn without sunscreen x SPF number = maximum sun exposure time
Misleading Information
This summer, companies have launched SPF 70 sunscreen, which might lead you to think that you could be in the sun for 12 hours based on the aforementioned formula. BUT, consumers don't typically put the same amount of sunscreen on as is applied during testing. Therefore, you're likely to get less out of the SPF rating than the formula would suggest. For best results, you should:
Apply sunscreen 15-30 minutes before sweating or entering water because the best protection is given when the sunscreen has time to soak in.
Reapply every 30 minutes to an hour, depending on skin type and age.
Babies, Toddler, and Young Children
Limit harsh
sun exposure for babies and toddlers
to 30 minutes at a time. The heat can affect these little ones quicker than bigger kids and adults. Likewise, use a baby-friendly SPF sunscreen that will not interfere with developing hormones. Stay away from anything with retinyl palmitate (vitamin A) and oxybenzone. Instead, look for a mineral-based sunscreen with high zinc oxide and/or titanium dioxide.
Teens and Adults
Teens and adults can handle
longer exposure to the sun
without burning. Stick to a sunscreen between 30-50 SPF as they tend to have less retinyl palmitate (vitamin A) and oxybenzone. Also, it is imperative that teens and adults take time to let sunscreen absorb (15-30 minutes) before entering the water as they are less likely to reapply during water activities.
Seniors
Seniors should limit exposure to sun to 2 hours a day and should wear
protective clothing
with built in SPF when possible as the skin becomes thinner and more fragile as we age.
Warning: Dollar Store Sunscreen
Be aware that the sunscreen purchase from dollar stores are not the highest quality. There have been documented cases of dollar store sunscreens causing extensive burns on children. Spend the extra few dollars and buy a reputable brand.
Make an Appointment for a Skin Cancer Screening
In addition to sunscreen, the American Academy of Dermatology recommends
skin cancer checks
as among the best ways to prevent and catch skin cancer. Summer is here; go ahead and slide into a brisk pool, spend the day on the lake, or simply play in the sprinklers with your kids. The memories you build in the summer months are ones that last a lifetime, just don't let the skin damage last as long. Call our office for more information regarding skin cancer prevention.
Save
Save