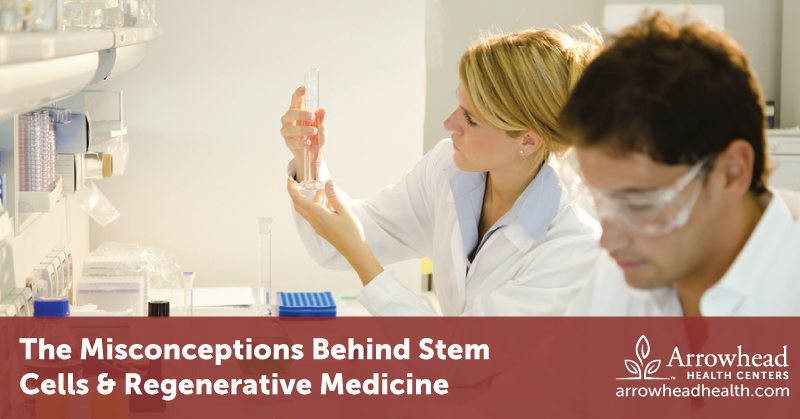 Setting the Record Straight about Stem Cells and Regenerative Medicine
Arrowhead Health Centers uses a Placental Tissue Matrix Therapy, a specific type of stem cell therapy to treat chronic back, knee, and joint pain. Over the course of our work, we find that many people have reservations about the therapy—a completely understandable occurrence given the amount of misinformation surrounding stem cells and regenerative medicine.
First of all, what are stem cells and what makes regenerative medicine such an effective treatment option?
Put in the most basic of terms, stem cells are undifferentiated or unspecified cells. A unique mix of proteins, growth factors, and cells makes stem cells especially versatile. Our bodies are comprised completely of cells and stem cells containing all of the essential building blocks to become any type of cell within the body. With the right conditions, they can be used to form new soft tissues like cartilage, ligaments, tendons or muscle tissues—the breakdown of which leads to common ailments of the bones and joints like bursitis, osteoarthritis, and rheumatoid arthritis.
Placental Stem Cells ≠ Embryonic Stem Cells
Among the chief concerns for those considering stem cell therapy as part of any treatment plan is the misconception that stem cells are harvested from embryos. While it is true that embryos are a major source of stem cells for
scientific research
, there are numerous other (less controversial) sources of stem cells as well. While entire embryos are largely made up of stem cells at the 5-10 mark (before implantation in the uterus), many patients (for a large variety of reasons) are opposed to the method of harvesting stem cells from embryos because it ultimately results in the destruction of that embryo. There are also many ethical questions raised by the practice of cloning embryos to harvest more stem cells. Luckily, the inevitable moral debate about embryonic stem cells can be avoided without dismissing the potential for stem cell therapies to treat a myriad of disorders and illnesses. Viable stem cells can also be harvested to various extents from places like bone marrow, umbilical cords, and placentas.
Placentas are a particularly promising source for stem cells
because of their relative abundance in that structure. Placental stem cells (like the ones we use for cell-based treatments) are instead harvested from placentas and umbilical cord blood
after
a healthy baby is born. More specifically, we use PX50®. This product contains a placental tissue matrix containing collagens, growth factors, and other key biologic components. The elements found in PX50® support cell proliferation and migration across defects, working with the body's own cells to modulate correct tissue reconstruction rather than scar tissue. In short, the cell-based therapy works to reduce inflammation, fibrous tissue growth, and potential scar tissue formation.
Patients Undergoing Cell-Based Therapies Are Not At-Risk for Rejection
Placental tissue is what is called "immune-privileged." This means that there is no risk of the body rejecting the cells and resulting tissue, unlike other types of procedures. Furthermore, placental tissues (like the placental stem cells we use), does not cause allergic reactions and are anti-microbial, which means patients are even at a lesser risk for infections.
Placental Stem Cell Therapies are Unsafe Because You Do Not Know Who They Come From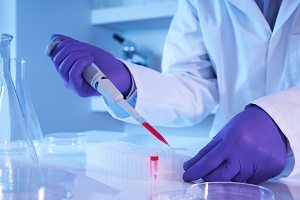 As with any type of tissue donation, the FDA enforces strict regulations and industry standards for the collection of placental stem cells. The stem cells used in our therapy are sourced from live, healthy U.S.-based donors after C-section delivery. Donors are screened and selected based on stringent criteria, and the final disposition of the donor is determined by a licensed physician. Serological testing (blood tests that detect the presence of diseases by identifying any antibodies present) and tissue culture swabs are performed for each donor.
Cell-Based Therapies Do Not Work/Are Still Too Experimental
While scientists and medical researchers likely have years of work ahead of them before they identify all of the possibilities for stem cell therapies and to maximize their effectiveness, there are already reputable studies that
demonstrate the efficacy of stem cell treatments for arthritis
and other disorders. One day, stem cells may help us find cures for disorders like Alzheimer's disease, Parkinson's disease or even cancer. But today, the treatments are helping medical professionals improve patients' lives through treatment for other disorders. Patients who have undergone our Placental Tissue Matrix Therapy as part of their treatment for various pain-causing conditions like osteoarthritis or tendonitis at our centers are thrilled with
their results
. If you are interested in
learning more about the stem cells and regenerative medicine
used at Arrowhead Health Centers or want to find out if you may be a candidate for this type of treatment for acute or chronic pain, contact us today.
Save