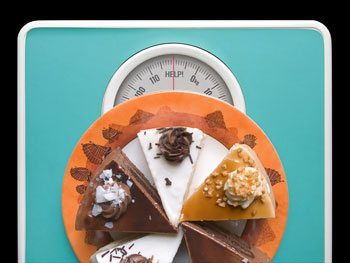 Ever heard how putting sugar in a car's gas tank can ruin the engine?  If food is fuel for our bodies, does that mean eating sugary foods can be just as destructive?  The simple answer is, "it all depends." The healthy grapefruit you plucked fresh from the tree and ate for breakfast contains sugar and so does the double-chocolate ice cream you had for dessert.  The truth is, not all sugars are created equal and consuming too much – whether from fruit or your favorite treat – can put your sweet tooth, and your body, into shock.  Consuming large amounts of sugar on a regular basis contributes to weight gain; a major risk factor for type 2 diabetes and other serious health issues like heart disease and osteoarthritis. The next time you're cruising the grocery store aisles, pay close attention to the amount of sugar in the foods you buy every week. You may be surprised at how much of the sweet stuff you're actually consuming.
Weight Watchers Muffins in Blueberry or Double Chocolate (1 muffin/2.2 ounces) – 18-21 grams
Skinny Cow Low-Fat Ice Cream Cone in Different Flavors (1 cone) – 19 grams
Quaker Oatmeal to Go in Brown Sugar Cinnamon (1 bar) – 19 grams
Pop Tart in Chocolate Fudge (1 pastry) – 20 grams
One small serving cup of Mott's applesauce (original) –  22 grams
Glaceau Vitamin Water (20 ounce bottle) – 32 grams
Oscar Mayer Lunchables with Crackers, Turkey & American Cheese (1 Lunchable) – 36 grams
Starbucks Caffe Vanilla Frappuccino (Size Grande/16 oz) – 58 grams
What is Considered a Sugar Overload?
The American Heart Association recommends the amount of sugar calories you consume should not exceed half of your discretionary calorie intake for the day. Your discretionary calorie intake is the "extra" amount of calories in your daily diet that can come from foods that have little nutritional value. So what does that break down to in grams of sugar for you and your family?
Adult Women: about 25 grams/day
Adult Men: about 38 grams/day
Pre-teens and Teenagers: about 21 – 33 grams/day
Children ages 4 – 8: about 12.5 grams/day
Preschool-aged Children: about 17 grams/day
Concerned about whether your family is eating too much sugar?  Schedule a health and wellness coaching session with Arrowhead Health Centers at 623-334-4000
. 
Additional sources: American Diabetes Association, American Heart Association