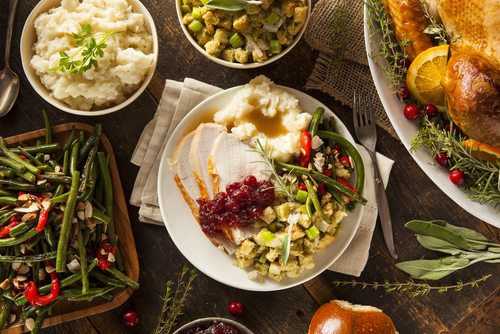 Ever wonder what it would be like if we went around the table on Thanksgiving and said one thing we're not thankful for?  For those of you who suffer from joint pain, we're pretty sure what might be at the top of your list. Hopefully, your Thanksgiving this year is happy and painless.  Maybe your joint pain will give you the day off and allow you to spend time with loved ones enjoying dinner. While there are pain meds and therapies that can definitely help, we thought we'd suggest a few Thanksgiving foods you could prepare this year that might make managing joint pain just a little bit easier.
Maple-Ginger Roasted Vegetables with Pecans
Ginger has been known and used for years to treat many different symptoms including upset stomachs and colds.  But now, there are reports that show it can also reduce pain felt in joints and muscles.  The gingerol contained in ginger can, in some cases, be just as effective as aspirin and ibuprofen. Since no Thanksgiving feast is complete without a vegetable dish, we suggest you try cooking your fresh vegetables with some ginger.  Add in some maple syrup and some pecans and you'll have a pain-relieving dish in no time.
Creamy Garlic Mashed Potatoes
For centuries, people have turned to garlic to help with tuberculosis and lung problems.  We're now discovering that garlic also helps relieve arthritic joint pain as well.  Some speculate that the sulfur in garlic is what makes the difference. So add some garlic to your mashed potatoes this year for an extra zing.  You'll be providing your family and guests with a real treat, while easing your arthritis pain at the same time.
Baked Apples and Ice Cream
It seems that apples are a great resource for managing joint pain.  Apples contain the mineral boron, which not only helps to reduce the risk of osteoarthritis, but has also shown to relieve pain for those who already suffer from arthritis. You can delightfully surprise those seated at your Thanksgiving dinner table with baked apples and ice cream for dessert.  You start by slicing open the apple, then filling it with your favorite fillings like walnuts, cinnamon, brown sugar, and currants.  Just a few minutes in the oven will do.  Add a scoop of vanilla ice cream and you've got a memorable dessert that can help you forget your joint pain. Here are some other pain-reducing foods that you might try incorporating into your Thanksgiving recipes:
Cantaloupe
Chile Peppers
Grapes
Mango
Nuts
Papaya
Have a safe and happy holiday!