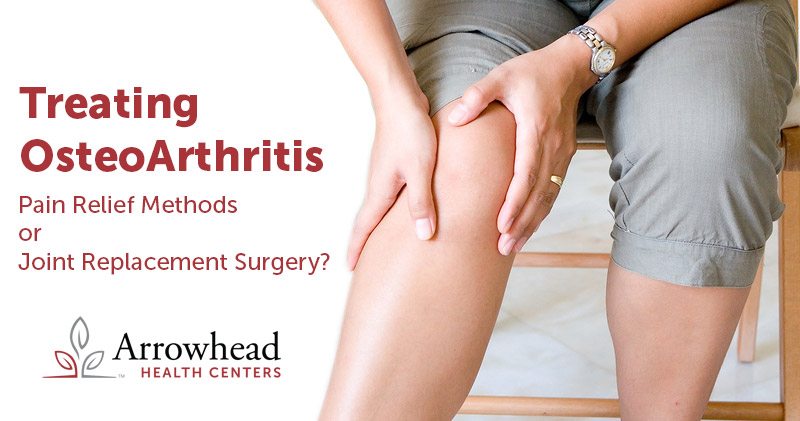 When treating OsteoArthritis pain, there are many treatment options. There is no single correct course of action—it will vary depending on personal medical histories, lifestyle and more. And while the modalities involved in treating OsteoArthritis are numerous and ever-evolving, it can be useful to think of them in three broad categories.
Three Categories of OsteoArthritis Treatment Options
Pain Relief
If you are one of the millions of Americans battling with OsteoArthritis pain, it is understandable that your first priority might be immediate relief from the relentless pain and stiffness. Most people turn to over the counter pain relievers like ibuprofen and aspirin to treat OsteoArthritis pain. And while these types of NSAID can certainly be effective on the pain front, they will not eliminate pain for everyone and
may not be a safe long-term solution to treating OsteoArthritis
. Under no circumstances should you start a daily regimen of
ibuprofen or aspirin
without consulting a doctor. Because of their potential for long-term damage, responsible health care providers will be able to talk to you about alternatives. This might include some prescription pain relievers, though you should also talk to your doctor more about emerging OsteoArthritis treatment options as well as other non-surgical options that can help you live without the limitations of OA joint pain.
Non-Surgical OsteoArthritis Treatment Options
One very important step toward long-term management of OsteoArthritis symptoms is physical therapy. While OA sufferers often avoid moving affected joints because of the pain, it can, in fact, exacerbate the problem by making stiffness worse. Learning purposeful movements via physical therapy are good to ensure continued movement of the joint (the knee, for example) while ensuring the the joint is not damaged further by unsafe movement or exercise—Many OA sufferers are also current or former athletes who will make their condition worse by trying to
push themselves "through the pain.
" Depending on the cause, location and severity of your OsteoArthritis, certain types of injections can be helpful too. Hyaluronic injections, for example, are all-natural and when combined with lubricating medication into the affected joints, they can help to create a cushion and prevent pain. Typically, these injections are most effective along with physical therapy.
Diet and Nutrition
Diet and nutrition are also critical to the successful treatment of OsteoArthritis. In addition to weight paying a critical role in the severity of the condition, certain food can be helpful in quelling the inflammation that results in much of the pain and stiffness. Luckily, many of the foods that tend to be anti-inflammatory also tend to be good for your waistline as well. Custom medical bracing, particularly for those suffering from OsteoArthritis of the knee, is another complementary step that can help improve the efficacy of non-surgical OsteoArthritis treatment options. Overall, the best way to achieve OsteoArthritis pain relief is with a multi-pronged approach that utilizes a combination of the above treatments (or others) to maximize your results. Furthermore, the healthcare team overseeing your OsteoArthritis treatment should have a clear understanding of your lifestyle and which treatment options will be the most practical for you.
Joint Replacement Surgery
Joint replacement surgery is not something to be taken lightly. A suitable physician should not only be willing, but eager to help you explore other treatment options before settling on joint replacement surgery. In addition to post-surgical infections and blood clots, issues like decreased movement in the joint or prolonged swelling can put a real damper on the recovery process. And this is all before possible complications from anesthesia are taken into account.
Joint replacement surgery
is, however, sometimes the most advisable option. Before making the decision to undergo any such operation, be sure to have a serious discussion with your doctor about why it is your best option and make sure that all of the potential risks associated with the surgery are explained to you plainly and clearly. OsteoArthritis pain relief may be your primary goal. However, by not losing sight of the activities you need those knees, hips, hands or lower back for—the activities that you might be missing out on—the benefits of avoiding joint replacement surgery are obvious. Why trade one set of negative symptoms for another? If you are suffering from OsteoArthritis pain, contact us to discuss our proprietary program to treat OsteoArthritis pain quickly and effectively. In addition to the modalities outlined above, our
OsteoArthritis of the Knee Program
has a success rate of over 91 percent. And while we would absolutely love to make you another statistic in that sense, it is our commitment to getting to know our patients on an individual level that most contributes to our success in creating customized treatment plans that relieve and eliminate pain resulting from a bevy of conditions.