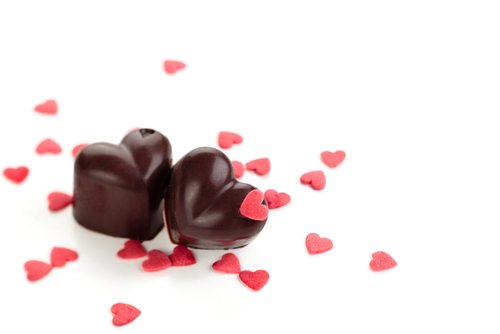 There is a flood of new information that has come out in the last several years about the health advantages of eating  chocolate. It seems that the chemicals in cacao, such as flavonoids and theobromine are actually really good for us and can play an active role in reducing swelling and resisting cell damage. This is good news for those of us who love chocolate. It just might lessen the guilt we feel as we crack open our box of chocolates on Valentine's Day. It is important to understand that not all chocolate has the same effect on our bodies. Dark chocolate tends to be the healthiest for us, but even then, when it is combined with too much sugar, butter and milk, it can still be a source of high calories. It has been suggested to look for chocolate made with at least 70% cacao or cocoa. Here is a list of just some of the healthy reasons why you should be eating chocolate this Valentine's Day:
Antioxidants
Believe it or not, chocolate can provide a great source of antioxidants that can help in fighting off cell damage in the body. For example, the flavonoids present in cocoa and chocolate can help fight oxidation that may occur at the cellular level and that leads to the formation of bad cholesterol.
Lower Blood Pressure
A recent study in Germany showed that a small serving of dark chocolate on a regular basis can actually lower blood pressure and reduce the risk of a heart attack by up to 39%. Again, the flavonoids found in chocolate get the credit for this health benefit. They promote flexibility in veins and arteries helping blood to pump at the right rate.
Reduces Swelling in the Feet
As flavonoids work their magic by keeping our blood vessels healthy and active, they also help to reduce inflammation and swelling in our feet. Additionally, flavonoids found in chocolate have the ability to improve lymphatic drainage.
Cough Relief
Imagine reaching for chocolate square the next time you have a cough! Studies have shown that the theobromine found in chocolate can help to quiet a cough as well as codeine. It actually works to suppress activity in a part of the brain called the vagus nerve.
Less Stress
The idea of reaching for the closest piece of chocolate when we are stressed or feeling overloaded with emotion is not necessarily a new strategy. However, new research shows that dark chocolate can reduce stress levels, cancelling out the metabolic effects of stress. While chocolate is an easy and pleasurable to treatment for some of the symptoms above, it is definitely temporary. To truly find relief from health issues, such as swelling in the feet, be sure to contact Arrowhead Health Centers at 623-334-4000.