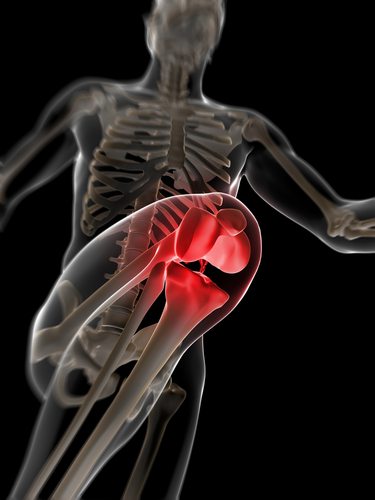 OsteoArthritis (OA) has long been known as the "wear-and-tear" arthritis that catches up with people in their old age. It is true that most people who suffer from OA are age 65 or above. OsteoArthritis is caused when the cartilage in the weight bearing joints of our bodies begins to break down and deteriorate. This puts more pressure on the bones in the joints causing pain and stiffness. Young People with OsteoArthritis are being seen more every year. Even though this breakdown of cartilage usually shows up later in life, there are many cases of OsteoArthritis in young people as well. It is much less common, but it should still be addressed when it comes up. OsteoArthritis can be broken down into two main classifications: primary and secondary. Primary OA is the more traditional form that is caused by long-term breakdown of the cartilage over many years. Secondary OA on the other hand is caused by such things as trauma, metabolic disease, congenital malformations, and premature menopause to name a few. Symptoms of secondary OsteoArthritis can definitely be seen in people under the age of 40. Risk factors that can lead to the development of OA include the following: ·      Biomechanical Factors ·      Malalignment ·      Joint Laxity ·      Muscle Weakness ·      Overweight An example of a younger person who develops OsteoArthritis might be someone who was overweight since they were a child. Their knee, ankle, or hip joints, which are the most common areas for the development of OsteoArthritis in younger people, have been exposed to years of extra weight and pressure. This could easily lead to the deterioration of the cartilage in joints at a much faster rate.
Related:
Look to Your Diet to Help With OsteoArthritis
Even very active and healthy young people can develop OsteoArthritis. We see young athletes with OsteoArthritis as a result of an old injury that caused the breakdown of the cartilage in joints over the years. The injury may have initially healed just fine, but may have also led to an uneven distribution of weight in joints. There are also those with a genetic predisposition to OsteoArthritis that end up developing it much earlier in life. No matter what the cause of OsteoArthritis in younger people, the good news is that there is treatment available just as there is for those with primary OsteoArthritis. Arrowhead Health Centers works with many people from different walks of life and at various ages to help them better manage their OsteoArthritis pain.
Related:
The OsteoArthritis Treatment Journey
We work with each patient to develop an efficient Recovery Game Plan that includes several treatments based on the most prevalent symptoms in the patient. Our team of specialists will continue to monitor and make changes to this game plan to ensure patients see the best possible outcome. Find out how you can get started on your Recovery Game Plan by calling Arrowhead Health Centers today at 623-334-4000 option 9. We will set up an initial consultation to assess your symptoms and then help you get started on the road to recovery.