At Arrowhead Health Centers, we know that you have a lot of options when it comes to where you receive your healthcare. But we like to think we're the best option out there.What makes us so unique? Perhaps it's our commitment to patients, our focus on integrated healthcare or our state-of-the-art medical equipment. In reality, it's all of those things and more.
The Arrowhead Health Centers Difference
Here at Arrowhead Health Centers, we're revolutionizing the healthcare system to put people first.  We've designed our healthcare services to cater to the busy lifestyles of our patients. With our "one-stop shop," you can do it all – visit a family practice provider, have a chiropractic appointment, get an X-ray, or even see a specialist if need be. No more traveling here and there from one office to the other. Everything you need is under one roof.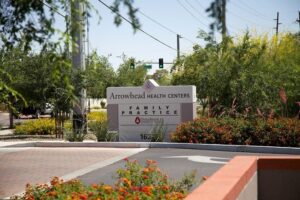 Healthcare Made For You
At Arrowhead Health Centers, healthcare is the way it should be: simple and convenient.
It's healthcare made for you. Whether you seek us out for family practice, chiropractic, physician rehabilitation, pain & injury management, chronic knee pain relief, osteoarthritis treatment, skin cancer screenings, diabetes management, or treatment of peripheral neuropathy, we've assembled a multi-speciality team of family physicians, physical therapists, pain management physicians, chiropractors, and massage therapists to provide you with the exact treatment you need.
What Sets Us Apart
Aside from all that, we also offer a whole host of other factors that makes us special. Some of the highlights include:
Four convenient locations — Glendale, Scottsdale, Mesa, Sun City / Surprise
Same day / next day appointment availability
Minimal wait times
Arrowhead Health Centers Now — the app that offers 24/7/365 family practice visit-by-phone access
On-site laboratory and diagnostic services
Our motto is "put people first & people get healthy " and we do everything in our power to uphold that model. More than providing health services, we want to provide a health care experience, one where you can be confident that you're getting the best care possible.