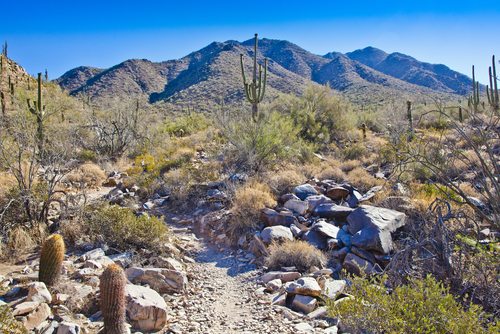 Here in Arizona, we're lucky to have a plethora of beautiful walking trails designed for all skill levels. That means there's a trail out there for you! One of the best parts of our treatment for OsteoArthritis of the knee is that we provide custom knee braces for support and injections that will have you feeling better in no time. Those combined with physical rehabilitation through our OsteoArthritis of the Knee Program will give you the best chance at tackling the Arizona mountains you love. Arizona hiking with OsteoArthritis is still possible Here's a few of our patients' favorite Arizona trails.
Papago Park: Big Butte Loop Trail This trail is a level path, not putting too much strain and exertion on the knee joint. The beautiful rocks surrounding the trail will capture your senses and is the perfect trail for someone who wants to feel as if they're in the midst of the desert, without having to travel too far.
Usery Mountain: Merkle Memorial Trail This trail is perfect for the nature lover. As you wind your way through a relatively flat area, you can take in the beautiful views all around you. This trail features a small hill, challenging someone who is ready to push themselves a little bit, testing the newfound strength after OsteoArthritis knee treatment.
McDowell Sonoran Preserve: Jane Rau Trail This half-mile loop was named after one of our very own OsteoArthritis of the Knee Program patients, Jane Rau. The tenacity of Jane led the preserve to give her a trail emblazoned with her name. Weaving through boulders and crossing bridges, hikers love this trail for the scenery and ease with which they can finish this hike. It's a perfect stepping stone for OsteoArthritis patients who are ready to get back to hiking!
Each trail has its own unique assets and sights to offer hikers, drawing in people from across Arizona with all levels of physical activity. We encourage our patients to use their new found freedom following the completion of their OsteoArthritis of the Knee Program in the Phoenix Metro area: from Surprise/Sun City to Mesa, we have several locations across Arizona for your convenience. If you're ready to hit the trails, experience comfort in your knees and enjoy physical activity again, give us a call at 623-334-4000, extension 9 to schedule your OsteoArthritis consultation. Our unique treatment program will have you exploring trails across Arizona in no time!