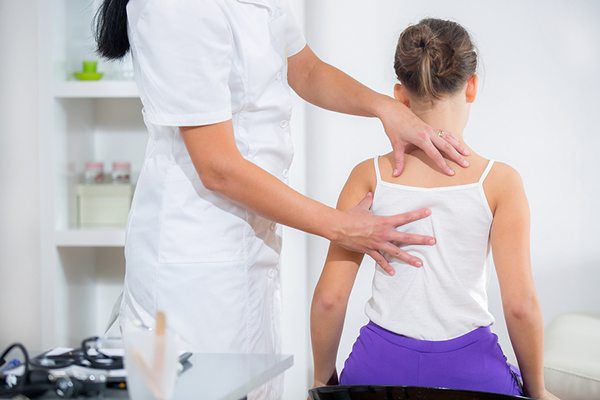 A child's health is undoubtedly of the utmost importance to any parent. With a growing number of parents connecting their children and chiropractic care, it is no wonder that the
Journal of Manipulative and Physiological Therapeutics
reports chiropractic therapy as the most common complementary and integrative medicine practice used by children in the United States. In fact, Chiropractors in the US have become the third largest group of healthcare professionals (after physicians and dentists) who have primary contact with patients. The science of this care is based on the relationship between correct spinal alignment and the corresponding health of nerves, muscles, and organs.  Therefore, we suggest that by keeping the spine in alignment as a child grows, a high level of wellness can be achieved.
The History of Children and Chiropractic Care
Derived from the extensive studies of
Daniel David Palmer
, the philosophy, art, and science of chiropractic care was established in 1895. The
tenets of chiropractic therapy
can be summed up into this:  that the body is a machine which, when well maintained, functions in it's most effective state.
Chiropractic care
then aims to correctly align
subluxations
in the body. Subluxations, or misalignment in the spine, inhibit the electrical impulses within the nervous system which can result in incomplete or misinterpreted signals throughout the body. Therefore these subluxations can manifest as:
neck pain: stiff, sore or tender
back pain: stiff, sore or tender
muscle spasm on the spine
headaches
joint pain
dizziness
posture imbalance
restricted movement that limit normal range of motion
Since the early days of manipulation, chiropractic therapy has been further developed, researched, and honed so that it is safe for children and adults like. According to the Centers for Disease Control and Prevention, 3.1 percent of children in the United States were treated by chiropractors in 2012. "That's a total of almost 2 million children in 2012 that received chiropractic and osteopathic care," said
Dr. Elise Hewitt
, president of the pediatrics council for the American Chiropractic Association. We can expect the number to be ever growing as parents search out non-invasive, drug-free alternatives. Further, organizations like the International Chiropractic Association have begun to offer a post-graduate Diploma in Clinical Chiropractic Pediatrics (DICCP) establishing superior techniques in pediatric adjustments. The association also publishes a peer reviewed
Journal of Clinical Chiropractic Pediatrics
so that practitioners can continue to apply best practices when it comes to adjusting children.
Children and Chiropractic Care: Success Stories
There are been significant studies that show health improvements for children using chiropractic treatments. For example, in 2008 the International Chiropractic Pediatric Association published a case study showing the
successful chiropractic care of pediatric patients with chronic constipation
. Likewise, the Journal of the Canadian Chiropractic Association published an article in 2009 indicating the effective treatment of
Gastroesophageal Reflux Disease of a 3-month old baby girl
.  Similar achievements have been made for children with
colic
,
asthma
, and
chronic ear infections
.
Why Should My Child See a Pediatric Chiropractor?
Little ones are constantly enduring "micro-traumas". The word "micro-traumas" may sound scary, but we're talking about natural incidents like going through the birth canal, falling while learning to walk, bumping heads, being thrown in the air by crazy Uncle Mike, etc. These adventures enhance our children's understanding of the world, and yet can be the source of subluxations that may adversely affect their little bodies.  Pairing children and chiropractic care can not only help alleviate some
chronic conditions
as reference above, it has also shown to be an extremely effective preventative healthcare therapy.
Chiropractic care may help children with things like:
inability to sleep
recurring ear infections
frequent sickness
crying all day and night
bouts of constipation and diarrhea
breastfeeding issues
colic
asthma
digestive issues
reflux
bedwetting
allergies
as well as encourage a child's optimal brain and nerve development.
Things to Know About Children and Chiropractic Care
Chiropractic care is safe for the majority of people. The key is to find a provider that is knowledgeable about your situation. Some practitioners specialize in pediatric care or geriatric care; others might cater to athletes, or even pregnant mothers. Find a chiropractor that is skilled in their technique, proficient in their training, and cares about the long term health of your children. If you can, find a chiropractor that is willing to already works with your
primary health care doctor.
 When these two
healthcare fields collaborate
, you – the patient – really benefits. Together your doctors can develop a comprehensive health plan that will get you on track to the
healthiest life possible
. Here are some questions you can ask a chiropractor to determine if he or she is the right doctor for you.
Questions for your chiropractor:
Did you acquire any post-graduate degrees or specialty training?
How much experience do you have treating my particular condition?
Do you work with family practitioners?
What is your experience treating children?
What is your method for evaluating and treating children?
How long will my treatment or the treatment for my children last?
What are the top 3 things I can do to get the best results?
Arrowhead Health Centers' Chiropractors are Expertly Trained to Help Your Family Heal
It's no wonder that a
growing number of parents
are turning to chiropractic care to treat their kids. The benefits of a properly aligned spine pay out ten fold throughout a child's life. This is especially true when parents are able to call on the combined efforts of their chiropractor and primary care doctor. That's why Arrowhead Health Centers continues to receive
rave reviews
from long time patients. If you are looking for a family doctor and chiropractor that will set your family on the path to health, contact our office. We have
6 valley locations
and same day or next day appointments for your convenience. Let our family help your family.