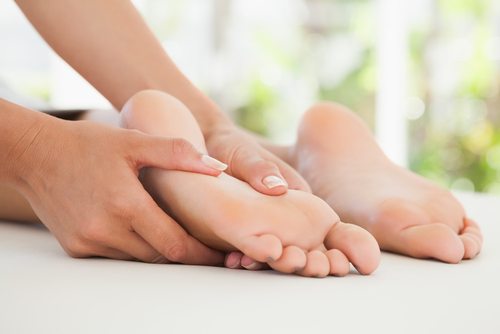 Among the many different treatments and therapies for peripheral neuropathy, many who suffer from this condition have turned to massage for help in managing the symptoms. Because peripheral neuropathy is caused by damage to nerve endings in the hands and feet, a massage is thought to help stimulate those nerve endings.  Some of the most common symptoms and signs of peripheral neuropathy include the following:
Sharp tingling sensation in hands and feet
Burning or electric sensation
Extreme sensitivity to touch
Lack of coordination and balance
Muscle weakness
Because the symptoms vary from one person to another, it is often difficult to know for sure whether massage is an effective treatment for peripheral neuropathy. For some people, a massage is a great way to relieve pain. It can also promote a more regular flow of blood that can help to restore the sensation in the nerves. Others feel that a massage would only further the symptoms. We often use massage as part of our therapy at Arrowhead Health Centers for those who are suffering from peripheral neuropathy. It is just one of the many different treatments we may try as we work to alleviate the discomfort our patients might be experiencing. In addition to massage, we may also use any of the following treatments:
Electronic Stimulations
Water Therapy
Balance Training
Stationary Bike Exercises
Using massage to help with peripheral neuropathy symptoms is definitely for everyone. When we first start working with a patient, our team of specialists puts together a Recovery Game Plan that is unique and tailor-made for each patient. From there, we continually monitor the results of the therapy, making small changes along the way to increase the positive results. Even if a patient does not start off with massage as part of their Recovery Game Plan, we may incorporate it as time goes on. Once a patient has progressed to a certain point, massage may be introduced to keep things moving along. On the other hand, we may discontinue massage as part of the game plan if we do not see positive results. Find out what your Recovery Game Plan might look like by setting up a free consultation with Arrowhead Health Centers. Simply give us a call at 623-334-4000, option 9 and we will be glad to set up a time for you to visit our office. Put your trust in the team that has brought relief to so many others who suffer from peripheral neuropathy.