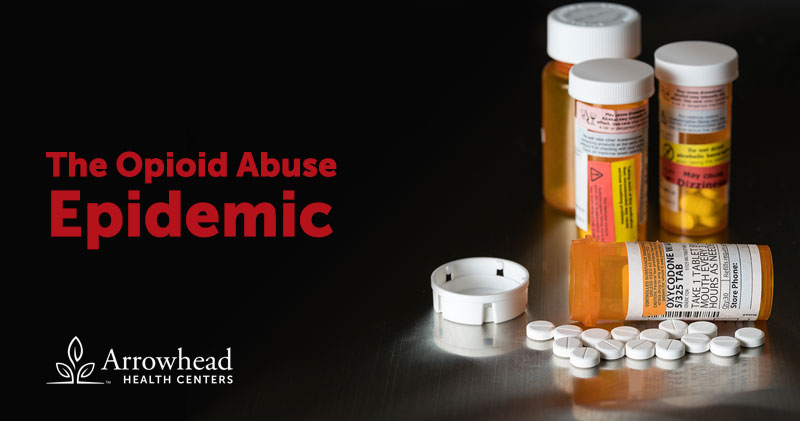 The United States Department of Health and Human Services estimates that more than 650,000 opioid prescriptions are written each day. Averaging 30 to 200 tablets apiece, that means upwards of 130 million pills are prescribed every day. In correlation, the Centers for Disease Control and Prevention report that more than three out of five drug overdose deaths involve opioids. Recognizing their tremendous threat, the surgeon general in 2016 declared the opioid abuse epidemic is a huge problem. It's one that only dedicated physicians can bring to an end.
The Opioid Abuse Epidemic
Deepesh Shah, MD, director of pain management at Arrowhead Health Centers, says the key to reducing dependence on opioids starts with increasing understanding among patients and providers alike.
"Opioids are prescription medications that work on several types of pain receptors in the body and produce morphine-like effects," he explained. "They're only intended for severe pain. However, they're being widely overprescribed." According to Dr. Shah, current opioid prescription rates equate to nearly one prescription per adult per year being written in the U.S. "The only time I'm less concerned about opioids is when they're prescribed for a patient facing a terminal condition like cancer," he noted. "For end-of-life conditions, it's about comfort care." Opioid use among those whose conditions aren't terminal is where danger and damage intersect.
How It Starts
"The body's physiological dependence on opioids can occur in less than three weeks for many patients," Dr. Shah said. "After that point, a person may develop a tolerance to the opioids and could require higher doses to get virtually the same effect." Rather than automatically prescribe an opioid, Dr. Shah urges providers to consider other options. "There is a time and place for opioids, but it's incumbent upon health care providers to explore other options as well," he commented. Dr. Shah says Arrowhead Health Centers takes a comprehensive approach to pain management, creating multidisciplinary, individualized pain treatment and recovery game plans. "Patients turn to us for expert medical advice," he said. "We rarely consider opioids as a first-line approach to pain management. We look at the entire person to see what fits their needs and lifestyle instead of just prescribing a pill."
Other Options
Arrowhead Health Centers delivers chiropractic care, physical therapy and other non-medication therapies in one convenient location. When appropriate, medications are used sparingly. Before prescribing opioids, however, Dr. Shah says he and his colleagues evaluate factors that signify an increased likelihood of becoming dependent on them. They assess everything from a patient's past sensitivity to medications, family or personal history of substance abuse, and psychiatric conditions like anxiety or depression, to current or past illicit drug use. The CDC estimates that nearly two million Americans abused or were dependent on prescription opioids in 2014. Close to one in four patients prescribed opioids in a primary care setting struggles with addiction. Topping the list of opioids linked to prescription drug deaths are methadone, oxycodone, and hydrocodone. "There are 78 opioid-related deaths a day," Dr. Shah shared. "That's more than car accidents and many other things we fear as a society. The truth is that opioids are more deadly."
How did this happen?
So, how did we get to this point? Dr. Shah has a few theories. "About 15 – 20 years ago, the Joint Commission declared an overall under-reporting of pain among patients, in turn requiring that physicians assess a patient's pain at every visit," he said. "This meant that even a patient coming in for a cough was suddenly talking to their doctor about pain that otherwise might not have been an issue."
At the same time, pharmaceutical-based studies that weren't thoroughly scrutinized by medical experts were reporting that opioids could be used without risk of dependence. This false belief that opioids were safe coupled with a mandate that providers assess and treat pain led to a surge in opioid prescriptions. "General practice providers have virtually no formal education or training in pain management, yet they're being tasked with treating pain," Dr. Shah explained. "There are no checks and balances when you don't train doctors in pain management while requiring them to treat pain." According to Dr. Shah, primary care doctors write more than 50 percent of all prescriptions for the strongest class of pain medications (schedule II opioids). Unfortunately, several other classes of non-opioid medications are often overlooked as many doctors turn to prescription opioids.
The Arrowhead Health Centers Way
"When a patient comes in [to Arrowhead Health Centers] with pain, we're not thinking about putting pen to pad and writing a script for an opioid," he said. "We look at a variety of goal-directed modalities and review the benefits and risks of every option with our patients." Curbing dependence on opioid medication requires vigilance on all parts. "We have a roughly three-week window before a patient becomes physiologically dependent on opioids," Dr. Shah said. "Waiting to connect a patient with a pain management specialist until they've already developed a dependence makes treating pain with non-opioid therapies much more difficult." If you have any questions or concerns
please don't hesitate to contact us,
we would love to get to know you and help you in any way we can. For more articles like this,
subscribe to Healthstyle Magazine
today.