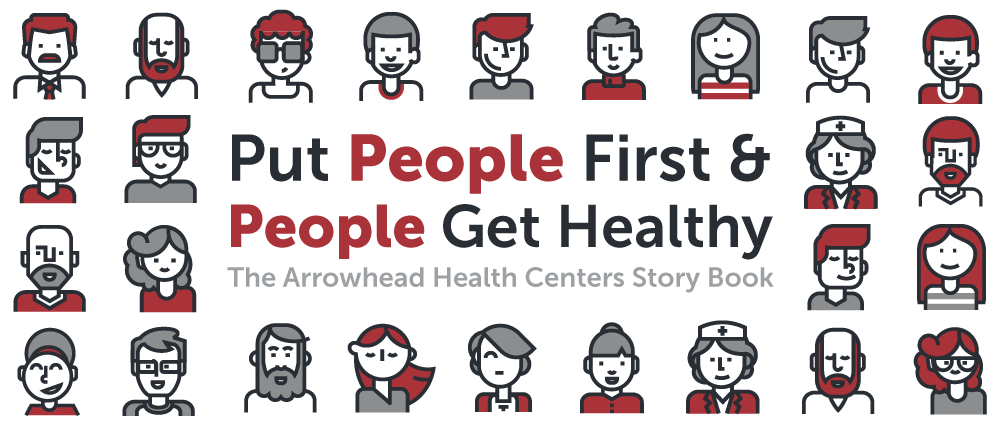 About Our Story Book
The Story Book began as a guide for understanding our roles and key processes. Since then, we've published 5 more versions — each more informative and in-depth than the last.
Our culture centers around a singular mission: Put People First & People Get Healthy. And when our focus is on making healthcare easy, convenient, and affordable, we do exactly that for our customers and our team. This message and mindset is something that's universally applicable — no matter who you are, what you do, or where you're from, we all appreciate being put first.
From our customers to our owners, this mindset has distinguished us from the rest of the pack since 1997, and it continues to do so as we grow and learn how to implement this vision further. Whether it be Patient Parking, our On-Time Promise, FREE Healthcare, or even our annual STIP Bonus — Arrowhead Health Centers continues to find new ways to put people first.
We live and breathe the culture every day, but it's important to recognize the far-reaching impact of what we do on a daily basis. That's why Version 6.0 has so many faces on the cover and throughout its pages — our story has a universal appeal to the human need for heart and kindness. Everyone understands what it feels like to be put first & feel valued. We want our customers (internal and external) to feel appreciated and acknowledged — our simplest actions of sincerity can turn someone's day around, perhaps even create a lifetime raving fan.