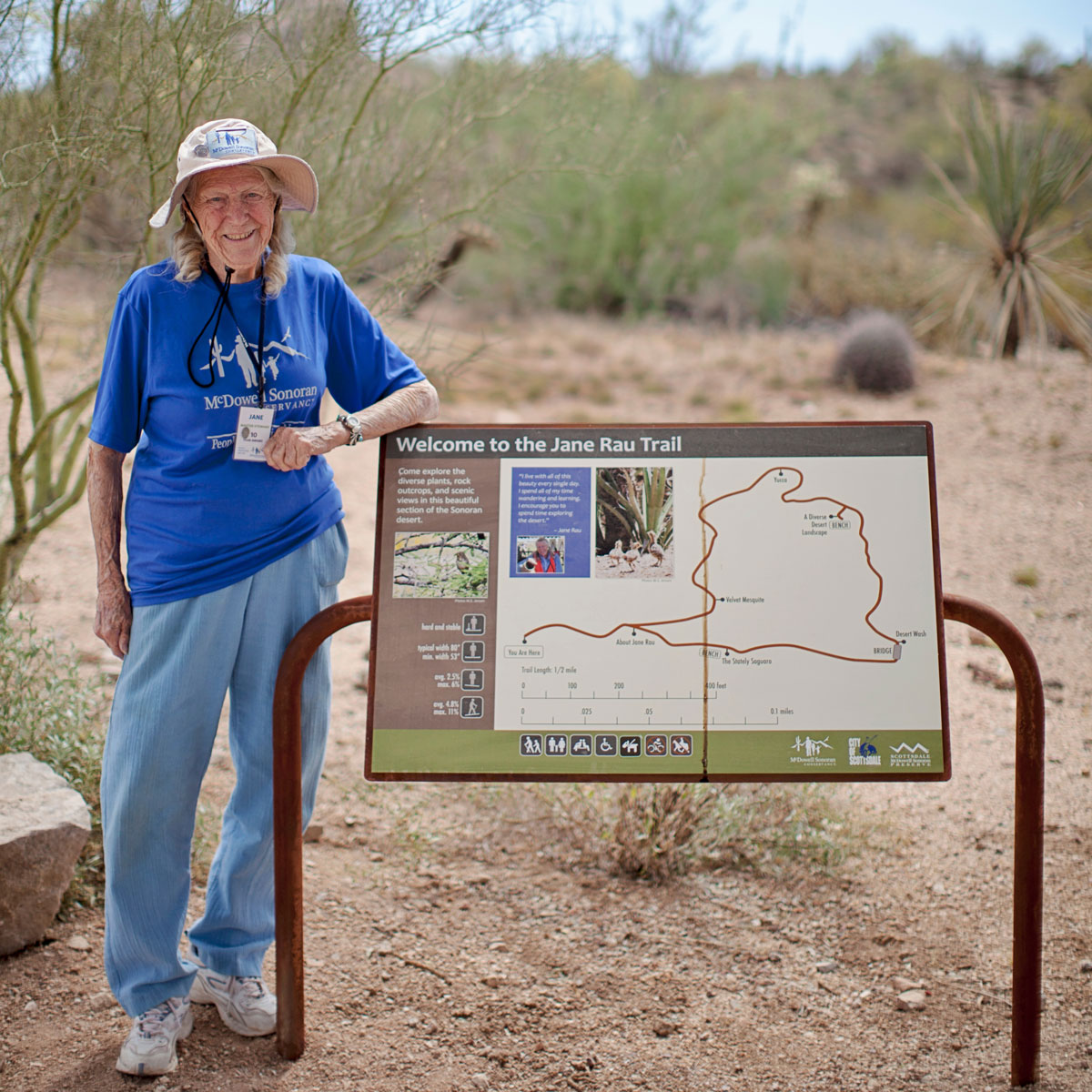 McDowell Sonoran Conservancy to Hold Party, July 25, 2014
Jane Rau, Arizona's most decorated conservation volunteer, who was instrumental in the creation and development of the McDowell Sonoran Conservancy and the Scottsdale McDowell Sonoran Preserve, is turning 92 and the Conservancy is throwing a party July 25, from 4:00pm to 6:00pm, at Ciao Grazie, 18835 North Thompson Peak Parkway in Scottsdale, to honor her, her life and her contributions to preserving the natural beauty of our Valley. Jane's 92nd birthday celebration is a perfect opportunity for Valley residents to recognize this cherished Arizona pioneer and recall the contributions she has made to all our lives. As we look east and see the jewel of Scottsdale, the McDowell Mountains, pristine and untouched, everyone in The Valley should know that they have Jane Rau to thank.
About Jane Rau
This pigtailed desert dweller is more active than most people a third her age. She has not let her advancing years stop her from hiking, biking and protecting the natural desert environment she loves so much. Not too long ago, however, Jane came close to being permanently sidelined when osteoarthritis of the knees made her everyday movements excruciating. But thanks to the treatment she received through the Glendale-based Arrowhead Health Centers' osteoarthritis program, Jane is as active as ever. She hikes and bikes daily and keeps up her duties as a master steward of the Scottsdale McDowell Sonoran Preserve, educating hikers, inspiring them to value our environment and sharing her colorful stories. Jane is the recipient of the prestigious National Conservation Volunteer of the Year Award presented to her by the Land Trust Alliance in 2008. In 2004, Jane was inducted into the Scottsdale History Hall of Fame and was recognized in 2011 by the Cultural Landscape Foundation, a Washington, D.C.-based group, for her help in preserving thousands of acres of Sonoran Desert. She also has a trail named after her, the Jane Rau Interpretive Trail, at the Brown's Ranch Trailhead.
About the Scottsdale McDowell Sonoran Preserve
The more than 27,000 acres that comprise the Scottsdale McDowell Sonoran Preserve make it the largest urban preserve in the Americas. It attracts more than 350,000 visitors per year and more than 570 volunteers work to maintain its beauty and educate the public. Without the tenacity of Jane Rau starting way back in the 1980's, this Arizona treasure probably wouldn't exist.