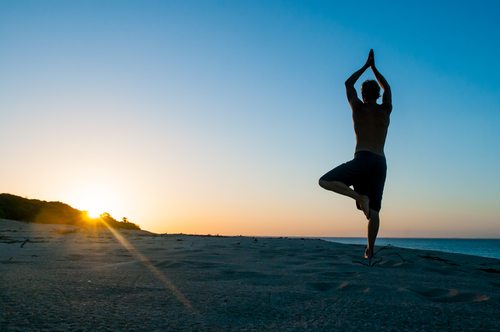 Deciding how to deal with your OsteoArthritis (OA) symptoms can be tricky. On the one hand, you are dealing with pain and stiffness in joints that no longer have the cartilage that they used to. Most people would rather avoid further pain in the joints by limiting their use. On the other hand, exercise and motion in the joints can help keep them flexible and strengthen muscles for added support. Most of those who suffer from OsteoArthritis are looking for simple, yet effective exercises that are low-impact and cause as little pain as possible. Some of these exercises include short walks, swimming pool aerobics and now more than ever, yoga and pilates. Yoga and pilates may not seem like obvious choices of exercise for those suffering from OsteoArthritis. This is because OsteoArthritis is often associated with people who are 65 or older. A suggestion of yoga to someone who is over the age of 65 might be met with some resistance. The truth is, there are some exercises in both yoga and pilates that are exactly what someone with OA could use to strengthen muscles in affected areas.
Yoga Moves for Osteoarthritis Relief
Some of the forms of yoga most recommended for those with osteoarthritis include the following: ·      Hatha Yoga – Those who practice hatha yoga know that it has both physical and mental benefits. It is a slow and meditative form of yoga that focuses on simple but challenging moves. ·      Iyengar – This is hatha yoga that incorporates the use of props such as belts, blocks and blankets to help students learn how to pose correctly. These props are perfect for those with OA. ·      Viniyoga – For those who want to use yoga, but prefer to do it on their own instead of a group.  This discipline focuses on the coordination of breath and movement. There are other more advanced forms of yoga, but these are not usually recommended for those with OsteoArthritis. Stick to the methods above and notice how you will gradually increase strength both physically and mentally.
Pilates and OsteoArthritis
Pilates is an exercise system that focuses on core muscles in the body that help with balance and keeping the spine in alignment. Because it is a gentle program, pilates is a great exercise system for those with OsteoArthritis. There is very little stress on joints or surrounding ligaments and cartilage. Those with OA that have tried pilates notice that helps to relieve stiffness and soreness in the joints. The stretching techniques of pilates helps to promote better blood flow to muscles and tendons. By focusing on core muscles, pilates helps those with osteoarthritis gain strength and coordination, relieving the stress placed on the affected joints. For other ideas on exercises for those with OsteoArthritis, give the Arrowhead Health Centers a call at 623-334-4000, extension 9.