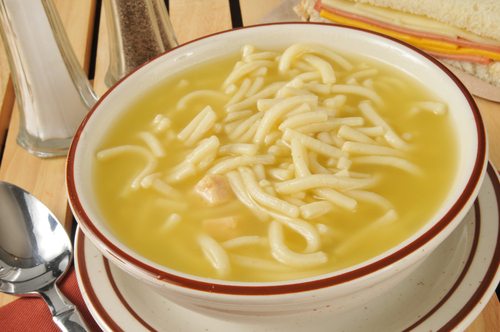 It's true – medical studies show the nutrients, veggies and protein components in grandma's famous chicken soup can help you feel better when you're sick.
The Science of Soup
While there may not be an official "cure" for the common cold, your dear ol' granny may have been onto something when she served up her famous chicken soup recipe at the first sign of your seasonal illness.  Numerous scientific studies show that this particular soup contains healing and medicinal properties when your body is under attack from a virus, such as the common cold. Dr. Stephen Rennard, an esteemed researcher at the University of Nebraska Medical Center, tested his theory that his wife's grandmother's chicken soup recipe could help ease the unwanted results of the common cold.  Rennard's study showed that the soup did, in fact, aid in the relief of cold symptoms by breaking up congestion, easing the flow of mucus and acting as an anti-inflammatory to soothe sore throats.  While Grandma's recipe may be your favorite, Rennard's testing showed that store-bought varieties were also effective.
Grandma's Chicken Soup Recipe
Ingredients:
1, 5 to 6 pound stewing hen or baking chicken
1 package of chicken wings
3 large onions
1 large sweet potato
3 parsnips
2 turnips
11 to 12 large carrots
5 to 6 celery stems
1 bunch of parsley
Salt and pepper to taste
Directions:
1.       Clean the chicken, put it in a large pot and cover it with cold water. Bring the water to boil. 2.       Add the chicken wings, onions, sweet potato, parsnips, turnips and carrots. Boil about 1 ½ hours. Remove fat from the surface as it accumulates. 3.       Add the parsley and celery. Cook the mixture about 45 min. longer. 4.        Remove the chicken. The chicken is not used further for the soup. 5.       Put the vegetables in a food processor until they are chopped fine or pass through a strainer. Both were performed in the present study. 6.       Add salt and pepper to taste. Chicken soup still not helping you feel better?  Your seasonal sickness could be something more serious like influenza. Give us a call at 623-334-4000 if you aren't sure!